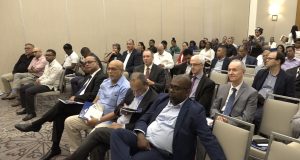 …says linked to high energy, taxes, lack of transparency
As the executive members of the Private Sector Commission (PSC) met on Friday afternoon for its Annual General Meeting (AGM), US Ambassador to Guyana Sarah-Ann Lynch called on the Commission to play its role in the fight against corruption; as Guyana was recently ranked number 134 of 190 countries in the World Bank's report on ease of doing business.
The Ambassador pointed out that the World Bank's 2018 report on ease of doing business reflected a drop in ranking from number 126 in 2017 to number 134 in 2018, out of 190 countries.  Places like Iran, the West Bank, and Gaza ranked better than Guyana.
She explained that this was linked to the fact that Guyana has high rates of taxation, energy, corruption and lack of transparency, coupled by a number of others.
"In addition, the duties imposed on many imported items can be substantial, driving costs up beyond competitiveness.  I don't need to tell you that the cost of electricity is one of the highest in the region, at more than 35 cents per kilowatt hour.  The power grid system is antiquated, resulting in regular power outage, forcing companies… to install their own power generation systems to cope with the blackouts," the Ambassador said.
On another note, she expressed concern over the Intellectual Property Rights (IPR) legislation, which caters for artistes and others. According to her, this legislation ought to match the advancements in technology. In fact, she warned that some companies may even avoid investing in the country if it's without a stronger IPR legislation.
The IPR legislation allows creators to safeguard their work through patents, trademarks and copyrights, resulting in prevention of plagiarism.
Ambassador Lynch cautioned during her remarks that they did not intend to frighten investors away from the country, but to let them know they play a pivotal role in resolving such issues.
"These issues are raised not to scare away investment, but to show that each one can be resolved over time and with the proper resources," she noted.
On this note, the US Ambassador explained that the PSC can play a role in affecting a change by offering guidance to the Government in shaping legislation. Further, it can review policies by the administration and recommend changes.
The PSC can also serve as an example of transparency and ethical behaviour to the rest of the business community. She added that internally, it can encourage all its member-companies to pay taxes in a timely manner and as prescribed by law. This, she added, will boost the Guyana Revenue Authority in its tax collecting ventures, hire more staff, and provide additional training to better handle the upcoming oil sector.
In the past, the coalition Government had been blasted by Opposition Leader Bharrat Jagdeo for several acts of corruption.
In fact, the US State Department had highlighted Guyana as corrupt, owing to a number of irregularities within various Government ministries.
According to the State Department in its assessment of the situation, allegations of corruption continue to trouble Guyana. It cited the Transparency International (TI) 2017 Corruption Perception Index, which ranked Guyana at 91 out of 180 countries. To make matters worse, Guyana has since dropped to 93rd position in TI's latest report.
The index placed Guyana's corruption perception score at 37 to tie with Gambia, Kosovo, Macedonia, Mongolia and Panama.
Last year, Guyana scored 38 when it ranked 91 out of all the countries reviewed. The index came at a time when much was said about the Auditor General's 2017 report and the sole sourcing of contracts.
This included the Public Procurement Commission investigating and red flagging the sole sourcing of the Demerara river bridge feasibility study. The contract in question was awarded to Dutch company, LievenseCSO, for a feasibility study into the new Demerara river bridge crossing.