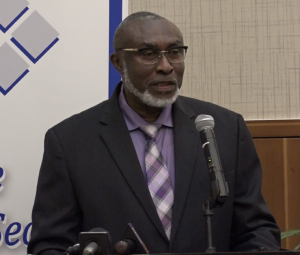 Outgoing Chairman of the Private Sector Commission (PSC), Desmond Sears on Friday underscored the importance of Government and the Opposition working together to swiftly resolve the political issues affecting the nation, as the Commission's Annual General Meeting opened at the Marriott Hotel, Kingston, Georgetown.
Although he noted that the current political climate is not "largely" affecting businesses, he called for a speedy resolution of the matters relating to the Caribbean Court of Justice's (CCJ's) ruling, which includes the Head of State, David Granger meeting with Opposition Leader, Bharrat Jagdeo to appoint a new Chairman of the Guyana Elections Commission (GECOM) to allow for polls to be held here soon.
The former Private Sector Commission Chairman remains cautiously optimistic that the political directorate will come to some compromise, adding that it is a given that everyone agrees that there needs be fresh elections in which case the people of Guyana and investors alike are, therefore, hopeful that political stability will be maintained until such time.
The business climate, he said, with the exception of oil and gas related activities, will remain largely unaffected by political circumstance.
"I, therefore, wish to take this opportunity to urge our political leaders to resolve these issues of national importance in a swift manner and in the best interest of Guyana," he added.
The former Chairman said that political instability is known to affect growth through physical and human capital accumulation. As a consequence, Sears pointed out, "It is of paramount importance that a situation of political instability or crisis be averted at all costs. These situations dampen investors' confidence and private investments become slump or stagnated".
He reminded that such situations also weaken the country from an international perspective, something which he believes can be resolved at the polls.
New executives
Meanwhile, at the Commission's 27th AGM, Captain Gerald Gouveia was elected as the new Chairman of the PSC. The new Vice Chairman of the Private Sector body is Komal Singh and Secretary, Ramesh Dookhoo. In addition, Ramesh Persaud was elected to function as Treasurer for the PSC.
At Monday's post-judgement hearing, CCJ President Justice Adrian Saunders urged that President David Granger meet with Opposition Leader Bharrat Jagdeo to come up with a consensus on the way forward and as such, postponed the date to issue consequential orders on the No-Confidence Motion to July 12, 2019.
Following the June 18 rulings, CCJ President Justice Adrian Saunders urged the two sides to meet to find a consensus before last Monday's hearing for consequential orders. However, Granger sent an invitation to the Opposition Leader on Friday for them to meet after Monday's hearing.
Jagdeo, a former Head of State himself, has already expressed his willingness to meet with the President. In fact, he said he is prepared to meet with Granger "at any time and on a daily basis if needs be".
This comes on the heels of the CCJ ruling that the unilateral appointment of the GECOM Chairman, retired Justice James Patterson, was flawed and unconstitutional.