…as it establishes 1st office in Guyana
Keen360, a United States (US) consultancy company with over 20 years of experience in assisting commercial enterprises and Government agencies to make better use of information technology (IT), aims at offering its services owing to the country's rapid development in the Information and Communications Technology (ICT) sector.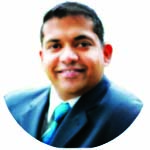 The company disclosed plans to establish its first international office in Guyana as it takes into consideration the familiarity with same, and its economic prospects.
In explaining to Guyana Times as to why the firm chose to expand its operations in Guyana, Founder of the company, Zahid Khan related that the plan is as a result of a successful pilot project that was conducted.
"We started looking at the Caribbean and Guyana, and why Guyana? So we looked at Guyana and we ran a pilot here. We decided to try it and see if it will work, so we did this and it worked extremely well because the quality of resource that we're finding here is extremely high, and the additional benefit is geography, and English being the first language it helped tremendously so the communication between Keen360 and our clients is phenomenal compared to our competitors." Khan asserted.
Further on this note, Khan underscored that the company is focusing on working alongside both private and public organisations, to help them achieve their goals and objectives, with regards to IT.
"Our goals is to work with an organisation and understand what is your goals and objectives, what are the things you're trying to achieve, and then working with you in these areas to solve those problems….it doesn't matter what your organisation is, the industry you're in, whether you're commercial meaning Private Sector or you're a Government organisation" the founder stated.
The consultancy firm specialises in solving strategic, operational and technological problems by means of delivering high standards of data quality, customer engagement, operational excellence and customer care to companies it is working with.
Additionally, Keen360 has also established a programme for rewarding academic achievements and funding school supplies, together with providing sponsorship for the Dynasty Cricket Club.
This is undertaken as the firm seeks to contribute to the country as it continues to improve its social conditions by moving towards grasping immense economic opportunities.