Tennis ace Sachia Vickery met with president of the Guyana Olympic Association (GOA) Juman Yassin as the world-rated player intensifies her interest to represent Guyana at the Tokyo Olympics and other major international tournaments.
The 22-year-old, born to Guyanese parents, Paula Liverpool and Rawle Vickery had expressed her desire to don the colours of the 'Golden Arrowhead' at the XXXII Summer Olympic Games, July 24 – August 9 in Japan.
Despite not being born in Guyana, Vickery, at her Grand Slam appearances would identify with Guyana, even sporting some memorabilia of the country's flag, which caught the attention of Guyanese around the world.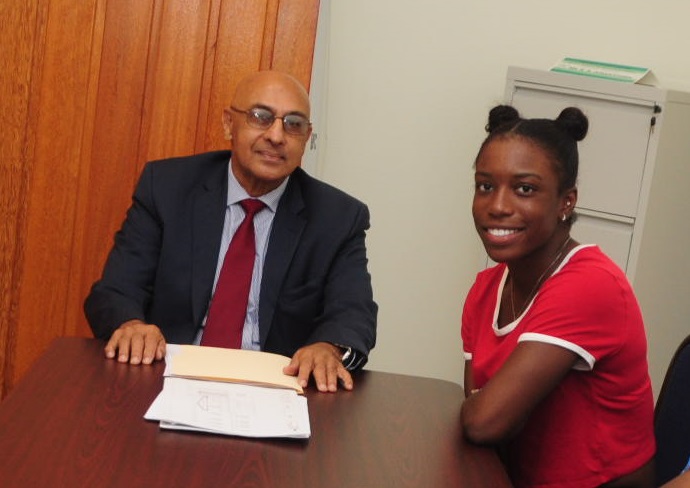 "I'm open to representing Guyana at the Olympics. It's my home country and that would be something that's a dream of mine in the future. Even though I wasn't born in Guyana, I still consider myself Guyanese. I embrace the whole culture and I always love going back, so I do consider myself Guyanese," Vickery said on Thursday.
Yassin had welcomed Vickery's intentions, adding "This is great news…this is something the GOA is happy about."
Upon her return on Tuesday, Vickery met with Minister of Social Cohesion Dr George Norton, where she told reporters, "I always feel happy about coming back home. I actually made a last minute decision to come just because I wanted to see all my family and kind of visit everybody, and also I got a lot of support when I was over at the tournament (in New Zealand), whether it was messages or people calling my mom, emailing my mom and just congratulating me about the tournament. So I was really happy to come back because I felt a lot of support."
Meanwhile, the World 102-ranked player will be hosting a 'give-back' drive on Friday at the GBTI Tennis Court, Bel Air from 6 – 8pm, "I'm also here to give back to some players, it may not be a lot, but I'm sure that the little token could inspire someone."
"I know how it feels to be given something, especially something that you're passionate about. So I have some racquets and other stuff that I brought back to give to some up-coming players and I it takes them a far way," the always smiling tennis player said.