Law enforcement officers attached to the Vigilance Police Station, East Coast Demerara (ECD), conducted a cordon and search operation at a shop in Vigilance South, ECD, which led to the arrest of a 32-year-old man who had a quantity of ganja in this possession.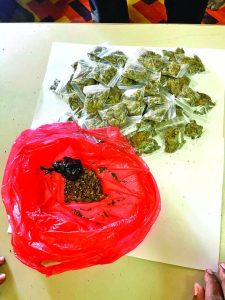 Police officers reported that they noticed a group of males gathered under a shed at the shop, engaging in a game of cards.
As the officers approached, one individual quickly stood up from his chair, clutching an orange plastic bag, and attempted to flee the scene. In the process, he disposed of the bag in a nearby shed.
Acting swiftly, the officers pursued the suspect and successfully apprehended him. The individual, a resident of Vigilance, was taken back to the location where he had discarded the plastic bag and it was retrieved.
Inside the bag were 49 small transparent zip-lock bags and one black plastic bag, all containing cannabis.
The suspect was duly informed of the allegations against him, cautioned, and subsequently arrested. He was then escorted to the Vigilance Police Station, where the confiscated substance was weighed and amounted to 125.2 grams.
He remains in custody pending charges.