– says others under radar will be closely monitored
Head of the Customs Anti-Narcotics Unit (CANU), James Singh on Sunday expressed his elatedness with the recent conviction of Andrew Morgan, who is listed as one of the "so-called big fishes" in the drug trafficking trade.
The 53-year-old businessman had been sentenced to four years in prison after being convicted of trafficking seven pounds of cocaine at his residence at Ixora Avenue, Eccles, East Bank Demerara (EBD), back in June 2022.
It was reported that CANU officers acting on intelligence conducted a narcotics operation at Morgan's home, thus resulting in the discovery of a quantity of cocaine, 27 rounds of 9mm ammunition, one .32 Taurus firearm, along with one magazine and 25 matching rounds of .32 ammunition.
Morgan had the custodial sentence along with a fine of $4,917,000 — three times the street value of the narcotic — imposed on him by Senior Magistrate Sunil Scarce at the Diamond/Golden Grove Magistrates' Courts.
Following the conviction, Singh explained that he is more than happy, noting that Morgan and other "big fishes" had been under their radar for a long time.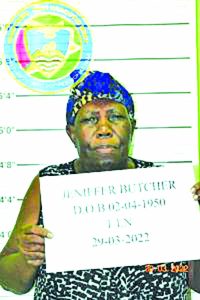 This has been the second conviction of a high-profile individual, the first was Troy Jacobs, who was found guilty and sentenced to 3 years in prison in March after being arrested by the unit back in 2021.
Some of the other notable persons of interest for the past 25 years include Kay Butcher, James Herbert, Lena Narine, Royston Peniston, Clyde Barrett, Joseph Wilkinson, and others.
Back in April 2022, Butcher, Narine, and Herbert were nabbed with $12.9 million worth of cocaine and ecstasy pills. They were later slapped with drug trafficking charges when they appeared at the Georgetown Magistrates' Courts and were all released on cash bail.
Multi-agency approach
Singh praised President Ali's multi-agency approach that is taken to fight drug traffickers while noting that they have better coordination with the various agencies – the Guyana Police Force (GPF), The Guyana Revenue Authority (GRA), and the Guyana Defence Force (GDF).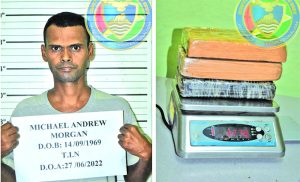 In addition, several other factors were helpful, including the establishment of a maritime section, the establishment of a joint container scanning section, a metal inspection section, the presence of CANU at key locations across the country, and more importantly, improved relationship with the public and private sector.
He added that while Guyana is deemed a transhipment point for cocaine and other drugs, this is gradually being addressed with some optimism of breaking that stereotype.
"The demand for the drugs is not here in Guyana but overseas…so what we have been doing is to make sure that our main ports of entry are well secured… when we have this type of security, persons must be conscious and hesitant to ship the drugs… we want to create that fear in the drug mules that if they attempt to smuggle the drugs, they will be caught." More and more passengers are being held at the airports whether incoming or outgoing rather than upon arrival at other destinations. The majority of cocaine and marijuana seized was destined for other regions and these interdictions are a result of the sharing of resources, including intelligence in order to be proactive. We will not sit and wait at the ports, we will follow every lead, every call-in."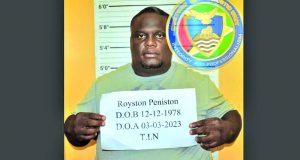 "We want to send a strong message that the Government is serious about fighting narcotics within Guyana and also Guyana will not be used as a transhipment point for narcotics to other territories."
He nevertheless reiterated that the Government, through the Home Affairs Ministry, has been providing the necessary resources to tackle and put a dent in the drug trade. "The performance of CANU is an example of the GoG desire to fight the drug trade in trade."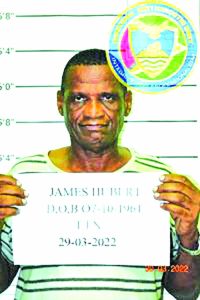 Presently, the unit has just over 100 staff who are spread across various regions of Guyana with the aim of executing its mandate. This has definitely contributed to successful surveillance and apprehension of the so-called
"big fishes" in the business.
In January, CANU destroyed 140.6 kilograms (kg) of seized cocaine and 454.7kg of seized marijuana. This totals around 596kg of narcotics that were destroyed and are from cases that have concluded in the Magistrates' Courts.
In 2022, a total of 3.7 tonnes of marijuana and over 124kg of cocaine were seized from various ports of entry and through operations within the country.
The unit has also strengthened relations with regional counterparts throughout the region such as the Regional Security System of which Guyana is not a member as well as Caricom Impacts.
In addition, the unit continues to support multinational operations that have yielded significant seizures outside of Guyana, so the same multi-agency approach that President Ali speaks about is also being done on an international level through partnerships and ongoing investigations.
"We are all working together to ensure that the "One Guyana" initiative is also a safer Guyana for all citizens and investors," Singh added.