Elroy Round-Robin T20 Competition…
The grand finale of the Elroy Round-Robin T20 Competition was played last Sunday at the Belle Vue Community Centre Ground on the West Bank of Demerara between the home team and the V&V All- Stars Team.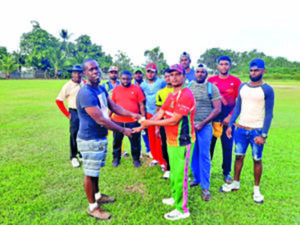 This was not the first encounter that these two teams have had against each other. They recently met in the Selwin Super-10 League in which the V&V All Stars held the upper hand. Heading into this finale, Belle Vue had the opportunity to get revenge, but once again they were bested by their senior opponents.
V&V All Stars posted 228-5 in their 20 overs, in the process showing drastic improvement in their cricket. They did nothing wrong in the batting department, but played with aggression and class. And although a few wickets did fall as their innings was coming to an end, they managed to rally through to post a respectable total. The top batsmen were Q Yusuf with 57 (5×4) (5×6); Ershad Ali with 46 (4×4, 2×6); Anand Bharrat with 42 (2×4, 2×6) and M Dhanpaul, 24 not out (2×6). Bowling for Belle Vue were Colin Boucher (2-33 off 4 overs); Randy Ramrup (2-37 off 4 overs) and Ryan Seecharran (1-26 off 2 overs).
In reply, Belle Vue were bowled out for 126 in 17.3 overs. Belle Vue suffered a bad day at the office as they attempted to chase the mammoth total, but, alas, they were outclassed. They were pressured by the huge total, which forced them to switch gears and as a result, they failed. The top scorers were Kerwin Bennett with 39 not out (1×4, 3×6); Paul Ashby with 20 (1×4, 2×6); Colin Boucher with 15 (1×4, 1×6) and Ryan Seecharran, 12 (1×4). Bowling for V&V All Stars were R Sargeant and Reaz with two wickets each.