The action continued at the St Cuthbert's Cricket Ground as the St Cuthbert's Pakuri Warriors battled Eccles in a thrilling T20 affair in their bid to take their cricket to the next level.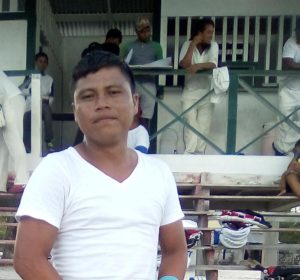 St Cuthbert's won the toss and chose to bat first. Opening batsmen David Frances and Ronnie Simon took to the crease; however, Simon fell soon after, taking the score to 1-4. Stollone Simon then fell to leave the Warriors in a heap of trouble.
The arrival of Wendell Williams upped the tempo and along with Frances, he carried the score to 94 in a partnership of 80 runs. Frances made an aggressive 55 (3×4, 4×6), but was undone by George (only name given) in the 15th over.
Eccles' last five overs went for 59 runs with aggressive batting and the main contribution was from Williams, who made 36 (3×4, 3×6), supported by Julio Ferreira (22) and Timothy Andrews (14) as the home boys closed their innings at 153-7. The chief wicket-taker for Eccles was George, who bagged 3-31.
With a target of 154 to get off 120 balls, the opening Eccles batsmen came out with all guns blazing and got their team off to a perfect start. But Elroy Dundas, who was given the fourth over to bowl with the score on 42, struck with his second delivery to make the breakthrough. Ferreira and Chavez Schuman then tormented the Eccles batsmen with some top off-spin bowling,
Eccles only managed 103 all out in 16 overs. Schuman ended with figures of 4-11, and he was supported by Ferreira with 3-14 while Andrews, Ronnie and Dundas bagged one wicket each to defeat their much-seasoned opponents from the East Bank of Demerara.