Prior to the COVID- 9 virus becoming a pandemic, four Guyanese boxers, along with their coaches, were scheduled to return home from Cuba on March 23, following a three-month training stint, in preparation for the Tokyo 2020 Olympics.
However, with recent developments not only are the Olympic Games now rescheduled, but the Guyanese team in Cuba have found themselves in a pickle, unable to return home as scheduled. However, all hope is not lost as the Guyana Boxing Association (GBA); the National Sports Commission (NSC) and the Guyana Olympic Association (GOA) have all joined forces to ensure that the Guyanese return home in a timely manner.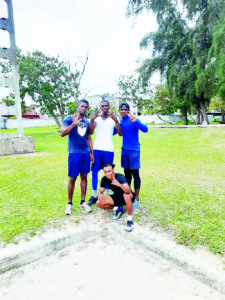 Sharing a comment on the situation with Guyana Times Sport, GBA President Steve Ninvalle revealed, "They (the boxers and coaches) are well accommodated and awaiting a flight back to Guyana."
Addressing the severity of the COVID-19 pandemic and the effect it has had on international travel, Ninvalle explained that the stakeholders would not rest until the athletes were back on Guyana's shores safely.
"It's not easy as a number of airlines are grounded and several borders are closed. Nevertheless, all hands are on deck to have their unintentional stay in Cuba over as soon as possible," Ninvalle stated.
He also assured of the GOA's and NSC's involvement, extending gratitude for their assistance.
"We are in constant contact with the National Sports Commission. Both the GOA and NSC are playing a great part in getting the boxers back safely."
Meanwhile, with the Summer Olympic Games now rescheduled to 2021, Ninvalle shared that he was comfortable with the decision, noting that the health and safety of athletes was the utmost priority.
"I am happy with and support anything that is to protect the athletes and their interests," he said.
The group of Guyanese boxers – Keevin Allicock, Colin Lewis, Dennis Thomas and Desmond Amsterdam, along with Coaches Terrence Poole and Sebert Blake – departed Guyana on January 4 for the three-month training stint, which was geared at preparing the team for participation in the Americas Boxing Olympic Qualifiers in Argentina, which have since been cancelled. The GOA had contributed US$15,000 to the Cuban trip, while the NSC had made an initial donation of G$1 million.