Canal No 1 floods
Residents of Canal Number One Polder, West Bank Demerara, are bracing themselves for even more severe flooding with the Agriculture Ministry's Hydro-meteorological Office forecasting more rainfall for the coastal regions and with the coincidental occurrence of above-normal high tides.
The lower villages of Canal Number One have been under water for approximately 10 days now, with little or no sign of relief in sight.
According to the Hydromet Office, light to moderate showers with the possibility of thundershowers can be expected heading into the New Year.
Regional Executive Officer of Region Three, Dennis Jaikarran, on a visit to the affected communities, noted that a team of officials has been in the area since last Saturday, assessing the situation and rendering the relevant assistance to the affected residents.
"We have been pouring in our resources at the regional level to ensure that we bring some amount of relief. We would be teaming up with NDIA (National Drainage and Irrigation Authority), the Water Users Association, and the NDC (Neighbourhood Democratic Council) in an effort to bring some amount of relief," Jaikarran noted.
Chief Executive Officer of the NDIA, Frederick Flatts, said on Friday that with the amount of rainfall occurring, the community would continue to experience severe flooding; but he noted that the NDIA is formulating a plan to address the situation.
"There are a lot of other issues (to be considered), such as the La Parfaite Harmonie. That area used to be a swamp and used to hold a lot of water, and now it is a housing settlement and some of its water is being drained in this channel. At NDIA level, we already started discussions to see what we can do to prevent this from happening again," he assured.
"We clean this channel every month, but because it was cleaned early in December, we had a buildup of weeds. Also, because we are so far here — we are 7 miles from the sluice and pump stations — this is the last part to be drained," Flatts added.
According to the residents, the main drainage canal has not been cleared since late November, after the authorities ceased paying the contractor. They noted that, following the flooding, they utilized their own equipment, since most of them are farmers, to clear the main drainage canal.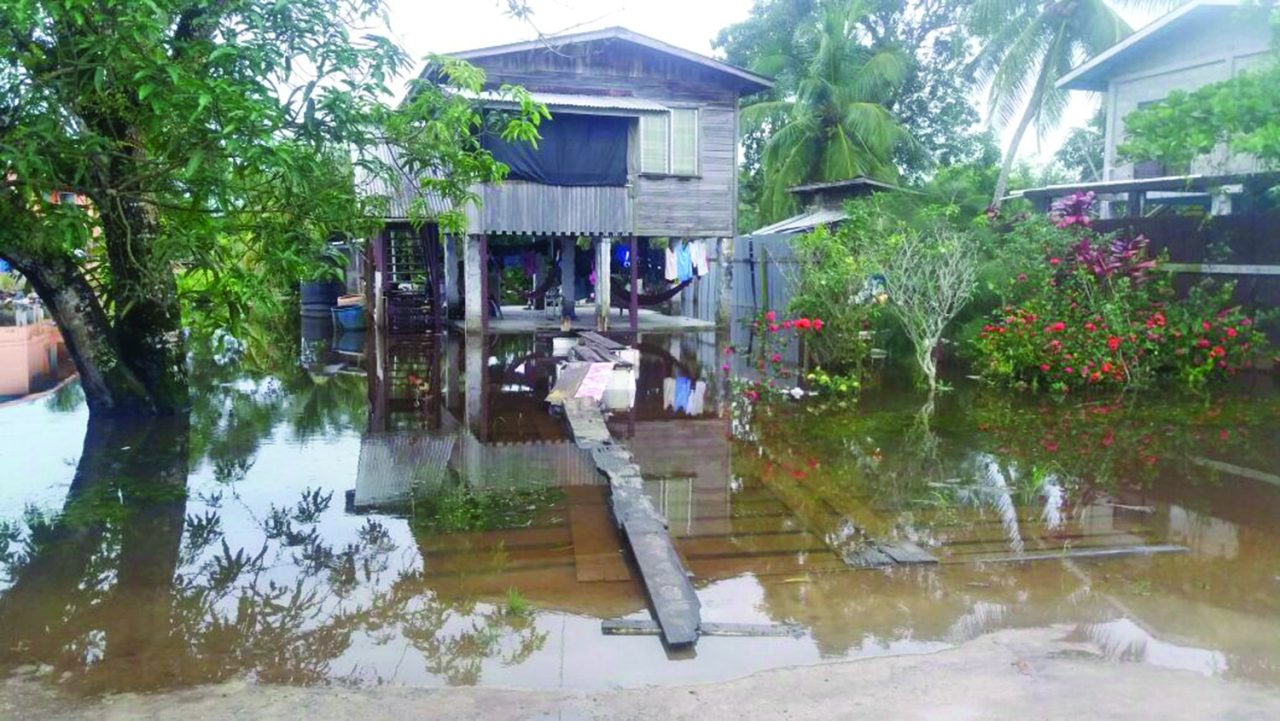 Inefficiency
On Saturday, the residents continued bashing the authorities for their inefficiency, which has resulted in millions of dollars in losses. The main source of income for the residents in the Canal No 1 Polder is faming, and because of the water accumulation, most of their farmlands are inundated.
The water continues to rise as the rain persists, and according to the residents, the water is constantly rising, with no sign of relief in the near future.
So far, the Civil Defence Commission has distributed sanitisation supplies to the residents. The Government has since said it would continue to monitor the situation, and render assistance as necessary. (Lakhram Bhagirat)