The man, who attempted to take his own life after allegedly killing his reputed wife, was on Wednesday slapped with a murder charge and appeared at the Vreed-en-Hoop Magistrate's Court.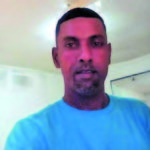 Natram Lall is accused of stabbing Bibi Zameena Ally several times during a dispute at their Lot 15 Old Road, Crane, West Coast Demerara home.
Lall appeared before Magistrate Chistal Lambert and was remanded to prison.
It is alleged that Lall, on January 15, stabbed the mother of three after accusing her of infidelity. Reports are that the couple's three children and grandmother had retired to bed when they heard the woman screaming for help.
The dead woman's mother, Rashpattie Persaud, related that she was awakened by her daughter's screams. The woman recounted that she rushed out of her bedroom and saw her son-in-law stabbing her daughter. The grieving mother said she too started screaming and pleaded with the man to stop but it was too late.
After the stabbing, Lall consumed a poisonous substance and was hospitalised. However, he was discharged recently and the murder charge was instituted.