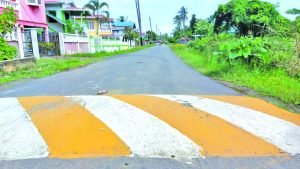 The intervention by the Public Works Ministry to upgrade the entire road network in the villages of Little India and Little Africa in Berbice was met with gratitude from residents who had complained bitterly of the inconvenience the previous muddy trails had caused them.
During a recent visit to Region Six (East Berbice-Corentyne), Public Works Minister Juan Edghill announced a wide range of infrastructural projects across the county for this year.
Among them is the upgrading of 1.8 kilometres of road at Yakusari, Black Bush Polder which is being undertaken by H Nauth & Sons Contracting.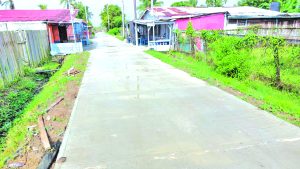 This $179.8 million project is expected to be completed by the end of the month.
"And that will bring us to a total of 10 kilometres of road that we would have done since 2020, when we went back to office. There will be budgetary allocations for main access roads, and we will look to see what we can continue to do in Black Bush Polder," the Minister said.
Additionally, 132 streets in the Region will be rehabilitated under the 2022 work programme. Funding for the project is coming from the $44.8 billion supplementary budget, which was approved by the National Assembly in November last. Of that sum, $4.4 billion is being spent on the 132 streets in the Region; while $572 million will be spent on 18 community roads in the four polders of Yakusari, Johanna, Mibicuri and Lesbeholden.
"That $572 million will not be able to satisfy everything that everybody wants, but we have already signed and awarded 18 contracts," Edghill told residents during a meeting at Mibicuri.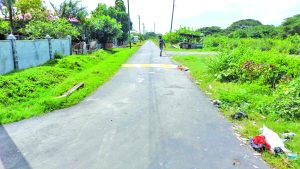 Edghill and his team also made visits to other communities in the Region, and inspected road works and other projects under the purview of the Public Works Ministry.
Among the communities visited were Little India and Little Africa – both in the town of Corriverton. According to the Minister, when he first visited those communities, residents were walking on muddy roads.
"Skipping to escape mud and water, and we made a commitment that we will get the concrete roads put in and completed. Today, I am checking to see that what we promised was delivered and to ensure that the residents who are the beneficiaries are satisfied," he said.
Teryol Nelson of Little Africa said he was grateful.
"What I do know is that for the past 24 years since we came to this community, the road has been real bad. So, I am grateful that we can walk and ride and drive our cars," the resident said.
Meanwhile, Ingrid Joseph of Little Africa said her husband was the contractor that built the street she lives on.
"Philbert Joseph and the workers make the road, but they make it very good. I am satisfied with the road, because the road was bad and now the road is okay now," she said.
Meanwhile, in the Crab Wood Creek Neighbourhood Democratic Council (NDC) area, apart from the current 62 roads under construction, an additional six roads have been awarded for the NDC as part of the 132 roads initiative.
These roads, the Minister said, will be larger asphaltic concrete roads, which cost in excess of $150 million.
Commenting on the initial phase of the project which saw 62 streets upgraded to concrete, one resident Jasmine Persaud said, "The condition of the road bin bad."
Another resident, Samiria Kathoo said she was happy with the upgrades:
"We have a brand new road and I am happy about this, because we had a mud dam and now we get a beautiful road."
In the 2023 National Budget, which was presented to the National Assembly on Monday, the Public Works Ministry was allocated $136 billion to enhance the road and bridge network across the country. (G4)