…offers Success squatters relocation options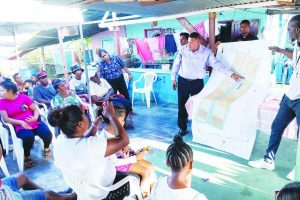 Squatters at Success, East Coast Demerara have been presented with several options for their relocation and resettlement.
The options, presented to them by Housing and Water Minister Collin Croal, are a low-income or moderate-income land at the Lusignan housing development; a middle-income land at Success; or a three-bedroom home, to be constructed at Success as well.
At a meeting with the squatters, Croal assured the individuals that the Housing Ministry intends to assist them throughout this process of their resettlement, and encouraged them to work alongside the CH&PA in their resettlement.
"We will work with you to help you on your relocation," Croal has said, adding a reminder that squatting is illegal and no new structures in the area would be recognised by the Ministry.
The Housing Ministry has been working over the past few years to reduce instances of squatting at Success, and offer squatters alternative housing arrangements. An inventory conducted in 2022 reportedly revealed that 74 structures were in the area.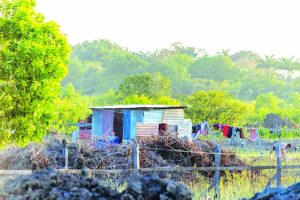 "As persons continued to illegally occupy the lands, a number of unoccupied structures were dismantled. However, four persons towards the immediate east of the scheme have erected fences that are encroaching on the road reserve," a statement released on the Housing Ministry's social media page has disclosed.
"Six complete structures and one incomplete structure at the immediate west of the scheme are also encroaching on the road alignment," the statement continued. "This has stalled contractors who are executing infrastructure works to develop the area, which is identified for a housing scheme."
This exercise to engage with these squatters was a measure taken to reduce these instances. During that community meeting, squatters also had an opportunity to raise concerns with Housing Minister Croal, as well as with the Chairman of the Better Hope/La Bonne Intention (LBI) Neighbourhood Democratic Council (NDC), Sheik Samsair; Central Housing and Planning Authority (CHPA) Community Development Director Gladwin Charles, and other officials.
In January, squatters on the drainage and sea defence reserves on the East Bank of Demerara had similarly discussed relocation withHousing Minister Collin Croal, who had pointed out an area at Great Diamond as a resettlement location. And those squatters were given six months to relocate.
In continuing to push its agenda of easing the process of home ownership for Guyanese, the Housing Ministry has also distributed land titles to several individuals who had applied through the agency. Last December, some 44 persons at Pigeon Island Squatting Area, ECD received titles to the lands they had been occupying for years.
Meanwhile, in January, 76 residents from regularised areas of Greenwich Park (Railway Embankment), Stewartville/Uitvlugt Sideline Dam, and Tuschen (Railway Embankment) in Region Three (Essequibo Islands-West Demerara) also received their land titles.