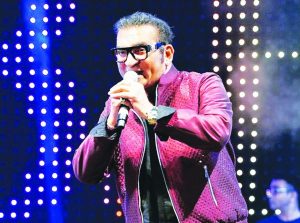 Abhijeet Bhattacharya, one of India's most prolific playback singers, is set to perform at the Everest Cricket Ground on Sunday, May 7, in celebration of Indian Arrival Day in Guyana. This will be the first-ever concert this singer, better known as Abhijeet, holds in this country.
"I've heard a lot [about] the beautiful country Guyana. I believe we will rock – you and me," Abhijeet has said in a promotional video on social media. "I will sing all of your favourites. I will sing all the evergreen hits you have been loving me (for) since so long…I'm very fortunate that I'm coming and performing for you," he added.
This concert is largely organised by Trinidadian promoters TANK Sound Co., who've been involved in bringing Bollywood singers such as Alka Yagnik, Kumar Sanu, Atif Aslam, as well as Abhijeet, to Trinidad for several years now.
Karan Mehra of Vivaanta Ayurvedic Spa & Hair Salon –one of the concert's main sponsors – explained that this collaboration with the Trinidadian promoters has presented an opportunity to bring more of Bollywood into Guyana, so that "people can get in touch with their Indian roots."
"Since (the COVID-19 pandemic), no Bollywood show has happened in Guyana. (Now) it's Indian Arrival Day, we're celebrating our culture, so bringing Bollywood music is the best thing to connect people," Mehra has said.
Backed by the Indar Kanhai and Trishul Orchestra, Abhijeet is expected to deliver a packed three-hour performance with his most popular songs, dating back to the 1990s. Mehra added that several local artistes, including Tony Cuttz, Vicadi Singh and AW Lyrical, would also be opening for the Indian singer.
General and VIP tickets cost $6000 and $10,000 respectively, while Diamond tickets costing $30,000 would offer attendees a chance to sit right in front of the stage and indulge in available food and drinks.
Mehra explained that though VIP tickets are almost sold out, tickets are still available for purchase, either at the location of the event or at the following ticket outlets: Poonai's Pharmacy, Sea and Breeze, Spready's Supermarket, Coss Cutters, Palm Court, A. Ally, Sanjay's Jewellery Store, and Vivaanta Ayurvedic Spa & Hair Salon.
Preparation for the show in terms of staging, lighting and other elements is currently underway, Mehra added. The show begins at 18:00h on Sunday, May 7, at the Everest Cricket Ground, and parking is available to all attendees.
Epic hits like "Tumhe Jo Maine Dekha" and "Main Koi Aisa Geet Gaun" are some of Abhijeet Bhattacharya's best songs. In fact, "Main Koi Aisa Geet Gaun" from 'Yes Boss' won him the Filmfare Best Playback Singer Award. He sang for Shah Rukh Khan in many movies, like Dilwale Dulhania Le Jayenge, Baadshah, Chalte Chalte, Main Hoon Na, Josh and more.
Abhijeet has given his melodious voice to other stars, like Akshay Kumar and Suniel Shetty.