Woodlands Hospital on Monday announced its partnership with Co-diagnostics, a US molecular diagnostics company, to commence cutting-edge Zika virus testing.
Managing Director of the hospital, Dr Neville Gobin, assures the population that they will know if they are infected in less than an hour. He stated that the hospital is moving away from rapid testing for the virus as research has shown that many of the devices used for rapid testing have yielded false positive results.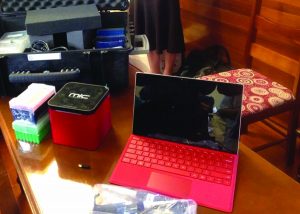 Co-diagnostics is at the forefront of polymerase chain reaction (PCR) technology, creating a new class of molecular diagnostics, providing fast, reliable, accurate and affordable PCR testing, causing clients to save thousands of dollars. It has made a giant leap forward in DNA test design by making PCR more accurate, faster to develop and much less expensive to administer.
Among its wide line of specialised testing is the detection of the Zika virus. Co-diagnostics own the most modern-patented technology that tests for Zika and other mosquito-borne diseases.
Co-diagnostics President Dr Dwight Egan said the company is looking to change "the way molecular diagnostics and infectious disease testing are done in Guyana."
He stated that the device, which comprises a computer and a testing kit, has the capacity to test 48 people at a time.
Guyana is among the first of South American countries to be on board with the PCR Zika Technology.
Egan stated that they would use a blood or saliva sample from the individual and place it into one of the tubes, which would then be inserted into the box. The test can distinct between Zika and its cousin viruses, especially Chikungunya and dengue. The cost of the equipment ranges from US$75 to US$900. "The goal is to provide molecular diagnostics tests that are inexpensive through inexpensive equipment," he said.
He stated that the company owns all of the intellectual property and that Woodlands Hospital was chosen because Co-diagnostics learnt that it was a premiere hospital within the country with an international laboratory.
The company will start training Woodlands laboratory technicians once the decision between the company and institution is inked.
"There would be no need to export samples of blood for testing to be done. Hopefully this will put an end to that… this is the type of goal that we have for you so that you can become independent as a hospital, as a country in providing these kinds of tests for your population," he asserted.
Egan said the test gets down to the molecular level to show that the Zika virus is alive in that patient, while many of the other tests do not identify the virus' presence "instead it shows that the body has developed some antibodies".
"So you might give someone a rapid test and it might show positive because that patient had the virus in their bodies long ago or they may have not had Zika but Chikungunya or dengue," he said.
He added that Zika is rather benign as a virus because 80 per cent of persons infected have no symptoms.
He affirmed that "microcephaly: that's the problem with Zika. The cost to take care of a microcephaly baby is between one and ten million (dollars)."
"I have never seen anything get the national attention like Zika has. Every week it comes up," he said.
The company also met with Public Health Minister Dr George Norton later in the day to pitch the test to him.
The molecular diagnostic test can also test where there is a mutation of mosquitoes that can possibly be infected with Zika. Dr Egan explained that devices can be placed at strategic locations to catch the mosquitoes, grind them and use the samples to test for the presence of the Zika strain.