– focuses on what 2019 holds
By Timothy Jaikarran
Already creating history in the nation of Guyana, Attorney-at-Law and Guyana Chess Federation (GCF) Vice President Yolander Persaud has been reflecting on her successful 2018 season as well as focusing upon 2019 and what it holds for her.
Speaking with Guyana Times Sport, Persaud stated that her year has been rather eventful, since she has now become one of the first Guyanese women to be elected to serve on a Fédération Internationale des Échecs (FIDE) Commission.
At the 89th Chess Congress in Batumi, Georgia, the General Assembly elected her as one of five members to serve on the Ethics Commission for the period 2018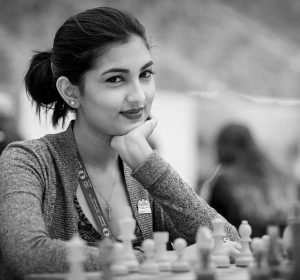 to 2022.
Persaud said, "I got fifth in the first Women's Championship Guyana ever held. Then I went on to win the May Women's Championship with a perfect score. My performance secured my place on the National Female Team for the 2018 Chess Olympiad in Batumi, Georgia. Upon being awarded a Chevening Scholarship from the British High Commission to pursue my LLM in Oil and Gas Law at the University of Aberdeen in June, I withdrew from the team. However, I attended the 89th FIDE Congress in Batumi, Georgia where I was elected by the General Assembly to serve on the FIDE Ethics Commission – the ethics, constitutional and verification commissions, which need elected member by the General Assembly, is one of the only two commissions in FIDE where the members must be elected by the General Assembly with at least a 50 per cent vote. I was at that time one of two women on the Commission, but, unfortunately, the other woman recently passed away, I was confirmed out of 14 other nominees."
According to Persaud, her work with the Commission has begun and they have been deliberating on a few cases already through correspondence and are set to meet early in 2019, in Europe.
She went on to state that her goals for 2019 are to execute her duties with fairness and in line with the FIDE Code of Ethics and laws of chess, and work to build chess in Guyana, particularly women's chess.