Using the death of university graduate Elton Wray as an example, Finance Minister Winston Jordan on Thursday urged the graduating class of the Basic Needs Trust Fund (BNTF) Skills Training Programme to diligently comb through their individual circumstances in order to move up the ladder of success.
The 156 participants from three cohorts across Regions Three and Four attended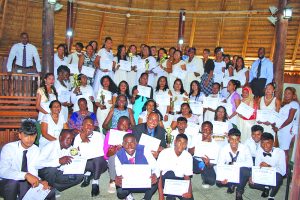 a graduation ceremony at the Umana Yana on Thursday, after completing training sessions funded by the Caribbean Development Bank (CDB).
Delivering the feature address, Minister Jordan told the graduands that the event was a "bittersweet" one, as it was happening at a time when another young graduate had met his demise while attempting to rob a bank.
The 24-year-old Elton Wray, who graduated with a degree in Agronomy at a Chinese university, died after he was shot by Police on Tuesday during his attempt to rob the Republic Bank's Water Street branch. His two accomplices are currently in the custody of the police.
According to Jordan, youths need to take stock of every opportunity afforded them to better their lives and that of their families.
"Some of us spend most of our time watching someone else's grass, and not enough time pruning our own. Some party all through the sunny season, but when it rains, supplies for our sustenance become scarce or even absent. What do we do then? Who do we blame? Often, we blame the Government, or our parents or circumstances. We look for everyone and everything else to blame, except ourselves. It is time to wake up!" Jordan warned.
He told the graduates that persons have to "stop fostering the belief that the world owes us a living, and that the Government owes us something. We have to begin to accept that we are the ones responsible for our own lives. Parents and Government may help, but ultimately you have to take full responsibility for the state of your lives."
At the core of the operations of Basic Needs Trust Fund (BNTF) is the drive to address the incidence of poverty in low-income vulnerable communities. Training focusing on skills in areas such as information technology, woodworking, micro-electronics, cosmetology, garment construction, and catering makes this initiative impacting, empowering and valuable, the minister said.
BNTF has also worked with small-scale entrepreneurs in the Georgetown area through the Training to Help Realize Innovative Venture and Entrepreneurship (THRIVE) initiative, to strengthen skills in manufacturing and marketing food products, inclusive of costing, packaging, pricing and distribution.
These interventions, Jordan said, create employment and bolster economic activity by promoting the establishment of micro and small enterprises countrywide.
"This is aligned to the wider plans of the administration to put youth empowerment at the heart of our nation's development," he explained.
He said Government will, next year, re-establish the Guyana Youth Corps as another measure to arrest the nation's youth unemployment problem.
According to him, Government, having realised the direct impact of livelihood and entrepreneurship initiatives, has, in the 8th cycle of BNTF, moved away from bricks and mortar projects.
In the ninth (9th) cycle, recently signed for US$6.145 million, emphasis will be continuously placed on improving the livelihoods of youth, with focus on renewable energy, entrepreneurship, and micro-enterprise development, he noted.
Unlike the other cycles, cycle nine provides seed capital in the form of tools, small machinery and startup financing.
"The intention is to empower youth, like you, not only with the requisite knowledge for business development, but take you one step closer to opening the doors of your own businesses," he explained.
According to Jordan, there are opportunities for each participant to earn a living. He noted that the skills training from which the graduands have benefited is a first step.
Participants of the training program benefitted from programs such as Basic Electrical installation, cosmetology, catering and cake decoration, and garment construction. Others received training in information technology, introduction to entrepreneurship, financial management, and marketing distribution among other areas.