After recently being granted bail on trafficking cocaine and marijuana charges, 27-year-old Edgar Lawson is back in court for the same offence.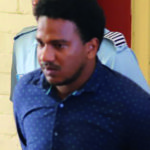 On Friday, the Lot 173 Charlotte Street, Georgetown resident denied that on January 19, 2020, at Charlotte Street, Georgetown, he had in his possession 28 grams of cocaine and 28 grams of marijuana for the purpose of trafficking.
Lawson appeared before Acting Chief Magistrate Sherdel Isaacs-Marcus and was remanded to prison. The case will continue on January 31.
Prosecutor Quinn Harris told the court at about 10:20h ranks acting on information went to the dwelling place of Lawson, where they made contact with him and requested to carry out a search. During the search, a number of leaves, seeds and stems suspected to be marijuana and a whitish substance suspected to be cocaine were found in a black bag.
The court heard that Lawson tried to escape by jumping over a fence but was later arrested and charged for the offence.
Objections to bail were made on the grounds of the prevalence of the offence and the penalty the charge attracts, together with the fact that the defendant is before the courts on similar charges.
In March of 2019, Lawson and his mother, Champadi Lawson, were slapped with similar charges after they were allegedly busted with 132 grams of cannabis and 23 grams of cocaine in their possession.
The duo was released on $50,000 bail after pleading not guilty to the offences.