BCB/Ivan Madre 100-ball
– says Captain Suresh Dhanai
By Brandon Corlette
It was an inspirational victory by the Young Warriors team Saturday last when they humbled Rose Hall Town Gizmos and Gadgets by seven wickets.
At the post-match presentation, Young Warriors Captain Suresh Dhanai explained how important the victory against Rose Hall Town was. Dhanai told this reporter that prior to this match, Young Warriors had only 13 players in the squad. When the players heard Shimron Hetmyer was available to play, over 18 players joined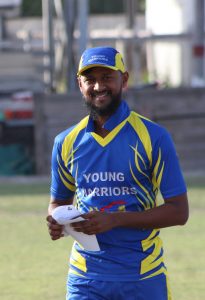 the squad.
The Young Warriors team that were once dormant in 2018 vibrantly played First-Division tournaments and dominated teams across Berbice except the powerful Rose Hall Town Gizmos and Gadgets. A Young Warriors team that were in the process of finding their feet again were in need of a tournament win, after losing two matches to the same opponents.
Owing to the inclement weather in Berbice, the 100-ball final that was scheduled for December 2018 was only played the following month. The Dhanai-led team that consisted of national players with experience beneath their belt played with confidence. It was the perfect birthday present for the Captain, as he witnessed an inspirational team performance.
The year 2019 will continue to be a rising year for the Young Warriors team, with Hetmyer taking his game to another level, the promising Young Warriors players are seeking to follow in his footsteps. National Under-19 batsman Alex Algoo is currently dominating the Under-19 tournament, scoring back-to-back centuries, and the experienced players in Ishwar Singh, Vishaul Mohabir and Devandra Ramoutar have made themselves available to play.
In the recently-concluded 100-ball tournament, Ramoutar, a left-arm fast bowler, was the only bowler with a five-wicket haul. The consistent bowler told this reporter that he was working hard to play in the Guyana Cricket Board (GCB) Franchise League.
Dhanai expressed gratitude to the Hilbert Foster-led Berbice Cricket Board (BCB) for restoring cricket in Berbice that was absent for two years. The Young Warriors will be aiming to continue playing positive cricket in the hectic BCB season.