The Athletics Association of Guyana's (AAG's) National Youth and Juniors Track and Field Championships got off to a scintillating start on Saturday, with younger athletes showing up and showing off.
Familiar names like Karese Lloyd, Keliza Smith, Adriel Austin and Ezekiel Newton were among the top performers on day one of the two-day event.
In the Girls' 14-17 100M sprint, Karese Lloyd brought it home for the running Brave athletics club with an impressive 11.97s run. Odessa France and Akala Hall, of Police Progressive Youth Club and Running Brave respectively, completed the podium in 12.55s and 13.07s.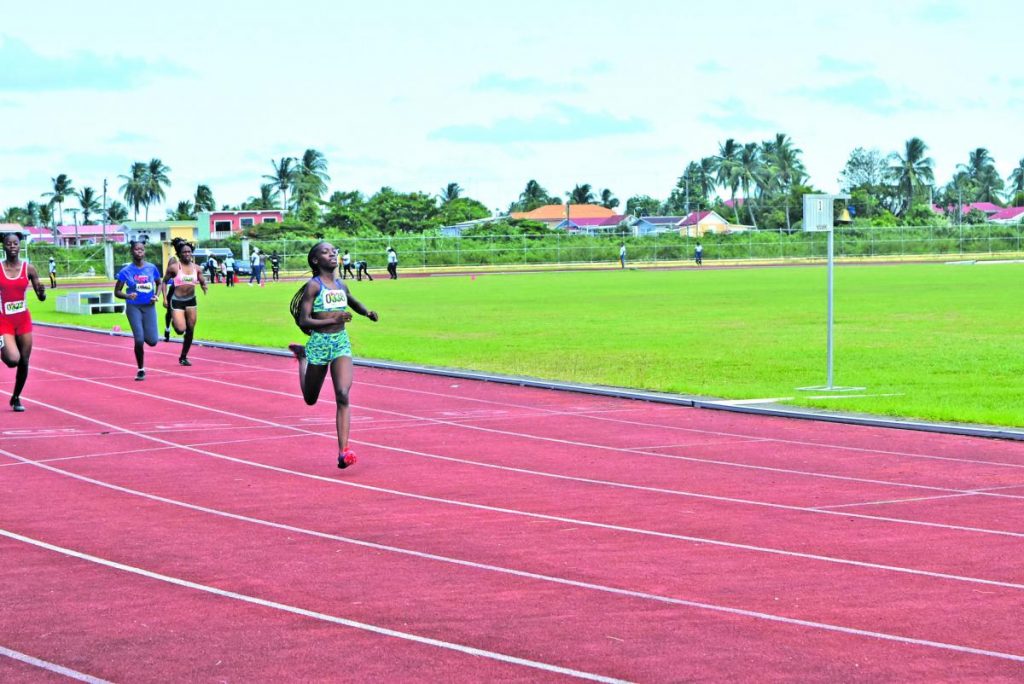 In the next category up, 18-19, Keliza Smith was the star of the show. Also of Running Brave, Smith clocked 11.60s for the win, while Briana Charles (RB) and Celine David of Super Upcoming Runners were second and third with times of 11.97s and 13.43s.
Adriel Austin was on Saturday able to cop a double in the 400m and 800m races. Competing in the 14-17 category, Austin clocked 58.08s and 2:18.60 in the 400 and 800 races for first place.
In the 400M, RB's Nerissa McPherson and Attoya Harvey were second and third with times of 58.76s and 58.93s.
In the 800M, Harvey finished second with a time of 2:18.79, while McPherson clocked 2:30.86 for third.
Super Upcoming Runners' Annalisa Redmond was the lone competitor in the 18-19 400M, clocking 58.76s.
Christianburg Wismar's Shaqua Tyrell was the winner in the 18-19 800M in 2:18.08, finishing in front of Mercury Fast Laners' Jelesa Wright and RB's Aliyah Headley, who clocked respective times of 2:26.02 and 2:30.52.
The female 4x100M event was dominated by Running Brave, as their 'A' team stopped the clock at 48.66s for first place, while their 'B' team finished in 52.43s for second, and New Amsterdam United 52.44s for third.
In the male version of that race, Running Brave also took home the Gold with a first-place time of a 44.57s. Bladen Hall Secondary School 'A' were second in 45.19s, while Hopetown Flames were third with 45.28s.
The 14-17 100M event saw Ezekiel Newton (Bladen Hall), Wesley Tyndall (RB) and David Higgins (Upper Demerara Schools) making up the podium with times of 10.88s, 11.00s and 11.03s respectively.
The podium positions in the 18-19 category of the same race were occupied by Osrick Pellew (Ruralites), Trevon Hoppie (Mercury Fast Laners) and Kurt Rudder (Super Upcoming Runners), who clocked 10.99s, 11.65s and 11.85s respectively.
The 400M in the 14-17 division was won by Bladen Hall's Diliza Lyken, who clocked 51.99s, while Jonathan Seedath of DeChallengers clocked 52.58s for second, and RB's Javon Roberts clocked 52.86s for third.
Meanwhile, in the 18-19 race, Hopetown Flames' Revon Williams was the standout man, finishing first in 49.73s, while Super Upcoming Runners' Simeon Adams stopped the clock at 49.74s for second and New Amsterdam United's Joshua Lam did so at 50.02s for third.