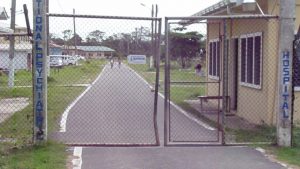 By: Andrew Carmichael
A fight at the National Psychiatric Hospital in Berbice on Monday has left one man dead and another facing a murder charge. The dead man has been identified as 28-year-old Stephon Francis of Kitty, Georgetown.
Based on information received, the fight reportedly took place shortly before midnight on Sunday after the suspect and other inmates attempted to take away some items belonging to the now dead man.
Francis reportedly celebrated his birthday on Sunday and his mother travelled to Berbice to take snacks and other eatables. However, it was while protecting his belongings that he fell and hit his head.
He was taken to the New Amsterdam Hospital where he was pronounced dead on arrival.
Director of Regional Health Services Jevaughn Stevens confirmed that there was a fight during which Francis fell and hit his head.
"We at Regional regret this incident very much and we will work close with the police and other staff to find out why an incident of this nature did occur and to ensure that this is a one-time thing and does not happen again," the Director said.
He noted that Francis was a substance abuse patient and not a patient who has mental health issues.
"It is unfortunate that these cases are sent to us on a regular basis. Forty per cent of our patients are substance abuse patients and another high percentage of them are persons coming through the court system and have remand dates but we have to take care of them because the Court Order states that they must be sent to the National Psychiatric Hospital. All together it poses a challenge to our healthcare service. In most cases, we find that these persons who come through the court system and the substance abusers have a tendency of becoming violent," Stephens added. However, he could not say whether Francis was a violent patient.
The Health Service Director noted that many of the patients that come through the court system would form themselves into gangs thus resulting in many fights.
"I think this aided in what happened last evening. We do regret what happened and we are awaiting on the police to give us a thorough report."
Meanwhile, Administrator of the National Psychiatric Hospital Luann Sulker instructed the guards on duty to ask the media to leave the compound after which the gates were locked.
Addressing the matter, the Health Services Director admitted that the National Psychiatric Hospital is a public facility and the media should not have been locked out.
"I want to apologise to the members of the media. All our services are public services and we are opened to the media at any time. I personally have an open-door policy when it comes to the media and I will ensure that my staff and even the guard company is reminded of that."
Meanwhile, the suspect was taken into custody as Police continue to investigate. The suspect is also said to be a substance abuse patient and was taken to the institution about a week ago.
Information coming out of the National Psychiatric Hospital indicate that it was not the first time that Francis or the suspect were involved in fights at the institution. Several reports were lodged at the New Amsterdam Police Station pertaining to fights involving the now dead man and the suspect.