– Moblissa farmer arrested for ganja found in home
A five-acre ganja cultivation with close to 10,000 plants was destroyed by ranks of the Guyana Police Force (GPF) in close proximity to 18 Miles, Ituni, Region 10 (Upper Demerara-Berbice), in the wee hours of Saturday morning.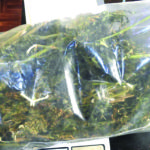 The plants, measuring from six (6) to eight (8) feet in height, were estimated to weigh 560 kilograms (kgs).
Reports are that between 11:30h on Friday night and 12:00h on Saturday morning, policemen, who were acting on information, conducted a "drugs eradication exercise".
About four miles off of the road, the cannabis cultivation was discovered along with a 'makeshift' camp that had five (5) kgs of dry cannabis.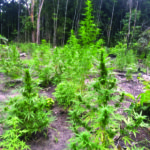 According to the police, the dry cannabis along with the camp and the cannabis farm were all destroyed by fire. However, no arrest has been made up to press time in relation to this exercise.
Meanwhile, on Saturday, a 53-year-old farmer of Moblissa Linden-Soesdyke Highway was arrested by Police after a quantity of ganja was found in his home.
According to reports received, Police swooped down at the man's residence and conducted a search, which led to the discovery of 1113 grams of cannabis. He is presently in Police custody and being processed for court.
Region 10 has been identified as one of the top two locations in Guyana where several major cannabis busts and fields with cultivated marijuana were unearthed since the start of the year but much work is being done to curb the phenomenon.
In the month of May, 10,000 ganga plants were destroyed during separate eradication exercises in Linden.
Police had destroyed almost 7000 cannabis plants, ranging from two (2) to six (6) feet in height, at a seven 7-acre marijuana farm. These plants were estimated to weigh about 485 kilograms.
Several ranks had conducted a raid at 11 Miles, off of the Ituni Main Road, Upper Demerara, where the discovery was made.
At the time of the discovery, there was also a makeshift camp along with a quantity of kitchen utensils and foodstuff at that location. However, when the police arrived at that location, there was no one in sight.
The farm was subsequently destroyed by fire. One day prior to this eradication exercise, ranks also made a similar discovery at the back of the Wisroc village, Wismar, Linden.
Police acting on information ventured to that location where the one-and-a-half-acre marijuana farm was found. It is averaged that there were close 2500-3000 cannabis plants cultivated there ranging from one foot to six and a half feet.
The police said that there was also a makeshift tent at that location comprising one hammock, a quantity of utensils, as well as green and dried suspected cannabis on the farm. The cannabis plants had an estimated weight of 250 kilograms and were also destroyed by fire.
In both cases, each location was marked and samples were taken. No arrests were made.
Earlier this year, former Head of the Police Narcotics Branch, Senior Superintendent Kurleigh Simon, who was promoted to the post of Police Commander, had told Guyana Times that the leading regions for cannabis cultivation since the commencement of 2019 have been identified as Linden in Region 10 and the Berbice River locations in Region Six (East Berbice-Corentyne).
Simon said that in the first quarter of the year, the Police Narcotics Branch had already completed in excess of 15 eradication exercises in Berbice, and these were done in more than 30 fields where marijuana was being cultivated and harvested.