In excess of 1000 children and parents showed up at the National Aquatic Centre, Liliendaal, Greater Georgetown for the opening of the "Teach Them Young" swimming programme on Monday morning, in what is being hailed as a landmark for the event.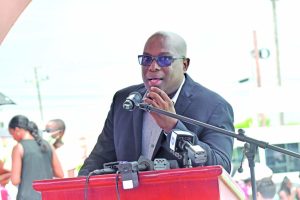 To be precise, this year's "Teach Them Young" programme registered over 1500 children, who will benefit from the Government-funded initiative.
The programme will last two weeks at four locations across the country, as children learn the valuable life skill of swimming.
Another benefit to be derived from the programme is the spotting of talent – something the Guyana Amateur Swimming Association's (GASA's) President Dwayne Scott is optimistic about.
"We're extremely grateful at GASA for this initiative, since coming out of this programme, we will see a new bunch of people interested in the sport. Perhaps taking up the sport as a habit and at some point, becoming competitive swimmers," Scott shared with the mammoth crowd.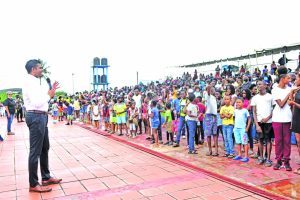 Labelling the number of registrants as historic was Director of Sport (DoS) Steve Ninvalle, who regarded the Government's commitment to sport in the same light.
Ninvalle explained, "And I would like to start off by saying this is a historic day. It is not only a historic day because of the number of participants that we have at this programme, but it is historic because the level of organisation and the way we have continued to listen to Associations is a microcosm of how the Government of Guyana is working towards developing sport in Guyana."
"Never before have we had in swimming, or in any other programme run by our Ministry, this amount of participants," the DoS added.
Also touching on the subject of commitment to sport was Subject Minister Charles Ramson Jr, who highlighted to parents their role in ensuring partnerships remain beneficial for all.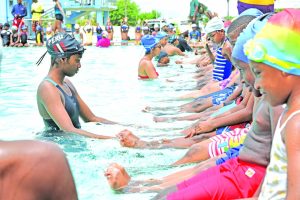 "Now I'm telling you that, because – for us to move our country forward, it has to be done in this framework of partnership. Partnership where we're honouring our commitments to you and you benefiting from the programmes that are designed for your benefit. And at the same time, for you to understand that there are things for you to look forward to," the Sport Minister posited.
"That you know that when we make that commitment and we say that something is going to happen, it is for it to happen, but that you must see that you're taking the opportunity for you and your kids to benefit."
While the programme will be hosted at Watooka House in Linden and Albion Estate Pool in Berbice; Region Four's programme, with the greatest number of entrants, has been broken up into two groups – Colgrain Pool for younger children and the Aquatic Centre for teens.
The programme will be hosted in one-hour sessions, with the six- and seven-year-olds being attended to between 8am and 9am, eight- and nine-year-olds between 9am and 10am, and the 10- and 11-year-olds between 10am and 11am.
At the Aquatic Centre, the 12-14-year-olds will hit the pool from 1pm to 2pm while the 15-18-year-olds will learn the skill from 2pm to 3pm.
The event is expected to conclude on August 5.