The Rupununi Football Association (RFA), male and female championship league 2017 officially got underway last Saturday March 4 at the St. Ignatius Sports Complex Ground in region nine.
President of the Rupununi Football Association, Ken Grant, had a brief presentation before the opening whistle of a double header.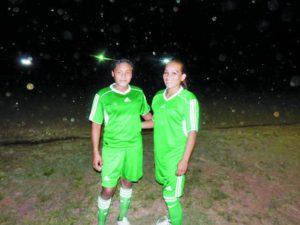 Opening night action saw both male and female football teams matching skills and stamina in the presence of a sizeable and vocal crowd that came out in support of their favourite teams.
In the first female match up of the championship, Snatchers prevailed over Gladiators 2-0 with some good defending by Coretta Ambrose in the centre back and the two goals coming from Alaisha Captain and Helen Domingo early in the second half.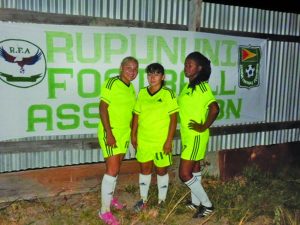 The second female match up saw Saints girls nailing Tabatinga 6-0. Amanda Cabral slotted in her first goal in 13th minute to give Saints the lead in the first half.
Saints took the opportunity to dominate the second half on their home turf, where the nippy forward Amanda Cabral picked up where she left off and wasted no time to complete a hat trick with a double strike in the second half.
Tabatinga made a few chan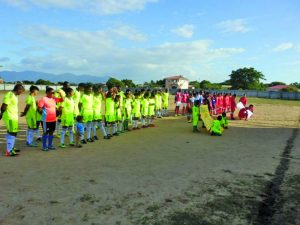 ges to put up a fight but Saints girls continued to take command on the field with reserved gas and rapid fire to slow down any threats from their Tabatinga opponents.
Saints increased the pressure on Tabatinga when Sulam Beiriva and Tiffany McDonald added two more goals in the 60th and 63rd minutes respectively. A minute later, time Amanda Cabral fired and took the score to 6-0 before regulation time. In the male version, Snatchers defeated Gladiators 3-1 and Tabatinga upset Saints by the same margin.
Seventeen football teams from the Rupununi in region nine are vying for top honours at this championship league including the Gold Getters from Mahdia in region eight.
The tournament continues at the St. Ignatius sports complex ground on Saturday March 11 from 16:00h.