Digicel Guyana on Monday launched its 16th anniversary promotion "16 Millionaires in 16 days" which will see customers winning a whopping $16 million.
Both prepaid and post-paid customers can participate to win $1 million daily for 16 days beginning January 31 and ending on February 15.
Prepaid customers can enter by simply topping up with $1000 or more (electronically or by scratch cards). Every top-up of $1000 or more gives them one entry in the draw for that day. For post-paid customers, all they need to do is pay their December bill in full and their number will be entered in the draw for the entire promotional period.
Winners will be randomly selected daily and called live during the Digicel Morning Rush radio show on Kaieteur Radio at 7:45h.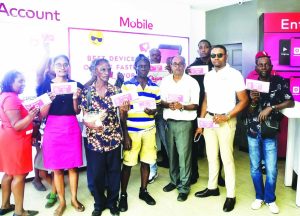 In addition, if a winner is called and their phone is off or the call goes unanswered, they will have until midnight to answer their call or make contact with Digicel on telephone number 690-5444. If that customer doesn't answer within the timeframe, then the $1 million will roll over to the next day's winner.
"We are celebrating 16 years of serving you. As we celebrate yet another milestone, our top focus remains on providing connectivity throughout Guyana. Since liberalisation we have committed significant investments to service expansions and improvements in Guyana to deliver high-speed LTE services and coverage," Chief Executive Officer of Digicel, Gregory Dean stated during the launch at City Mall.
He also noted that they have commenced rolling out their fibre services for businesses in Georgetown and surrounding areas.
"We would like to say thank you to our loyal customers for making it 16 wonderful and dynamic years in Guyana and we are excited to continue providing the widest coverage and most reliable communication services."
Digicel would like to remind customers that this is the only promotion that is currently running and not to answer WhatsApp calls claiming to be Digicel or to give their 4-digit codes or pin numbers.
All calls for this promotion will come from 226-7453/4 (Kaieteur Radio) or 660-1000.