– another 298 granted citizenship – Felix reveals
By Shemuel Fanfair
It was another afternoon of heckling as the 2019 Budget debates continued on Tuesday when Opposition Members of Parliament called on Citizenship Minister Winston Felix to provide numbers on the amount of foreign nationals allowed to remain legally in Guyana.
In his presentation to the National Assembly, Felix told members that 298 foreign nationals were registered by the Citizenship Department and granted citizenship, which suggested that more non-nationals are securing the path to attain equal rights as Guyanese.
The National Assembly heard that apart from those 298 newly minted Guyanese, some 979 other foreigners were allowed to stay in the form of extensions and work permits. These numbers include 225 Cubans, 175 Chinese, 165 Americans, 120 Indians, 70 from the Philippines, 75 Venezuelans, 59 British persons, 45 from The Dominican Republic, 30 from Trinidad and Tobago and 15 Surinamese.
Felix conceded that such figures will come under great scrutiny in 2019, saying Government will work to implement policies to ensure that "Guyanese receive their fair share of employment opportunities as a result of investments."
"The department requires all perspective employers to publish vacancies in one of the daily newspapers for over three months prior to that employment to give Guyanese a chance to compete for these employment opportunities," Felix observed.
He however stressed that Government has taken note of some "unhealthy" employment practices and will be working with various agencies to combat this issue. Felix focused the latter part of his presentation on the Venezuelan migrant crisis which has been plaguing several South American territories and fellow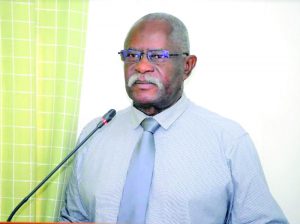 Caribbean Community (Caricom) member states of which Guyana is included. Much of the migration problems are linked to the economic crisis that erupted in the Spanish-speaking country which has risen up a previously settled border controversy matter with Guyana.
Felix stated that the migrant issue with Venezuela will be around for a long time but committed that Guyana will treat those very migrants humanely as this country moves to review the migration scheme. This is in keeping with a call from the United Nations (UN) which reached out and spoke on the general treatment of Venezuelan migrants for Guyana not to deport them, he added.
However, these humanitarian efforts as encouraged by the UN, as well as from members of the public and other groups, have not come with an accrued cost, as Felix announced that the Civil Defence Commission (CDC) spent over $6 million in chartered flights, food and accommodation.
More than that, the registered 75 Venezuelans registered legally in the past year are far from the hundreds more that are residing along Guyana's borderline communities and elsewhere in the country.
In many instances, of which Guyana Times was told, young and teenaged Venezuelan children of Guyanese parentage are living among communities across the country, especially in Demerara and Essequibo.
Many of these individuals are undocumented and face some "unhealthy" employment practices which Minister Felix said Government was moving to address.
Earlier this year, Government admitted that immigration authorities have limited capacity in tracking immigrants after they arrive in Guyana even though data is collected when many of them enter Guyana through its borders.
It is expected that Government would have strong and comprehensive immigration policies, especially with the influx of persons coming to capitalise on the budding oil and gas sector.
It was in July that Foreign Affairs Minister Carl Greenidge told media operatives that a Cabinet-vetted policy guideline was in place to establish how immigrants are to be treated.
Immigrants, upon entry, must fill out an arrival card that details their country of origin and proposed place of residence while in Guyana.
"Those who are returning from Venezuela… if you say you are Guyanese, you would be required to prove it. You would be given the opportunity to establish… if you are Guyanese by birth, naturalisation or descent. If you are not Guyanese, you will be treated as non-Guyanese," he had outlined.
The Citizenship Department in July revealed that some 22,520 persons had entered Guyana between January and April 2018.
However, there was no record of 6170 of those persons departing which raised some concerns over illegal migration.
There were calls for more stringent efforts to reduce the missing departure numbers out of fear that persons could be caught up in human trafficking to Guyana and to other countries.
The records had also shown that 3515 Haitians entered Guyana in 2017, but only 291 were documented to have left.