The People's Progressive Party/Civic (PPP/C) Government has increased budgetary allocations for roads in Region 10 (Upper Demerara-Berbice) to a whopping $1 billion, almost double the amount originally set aside.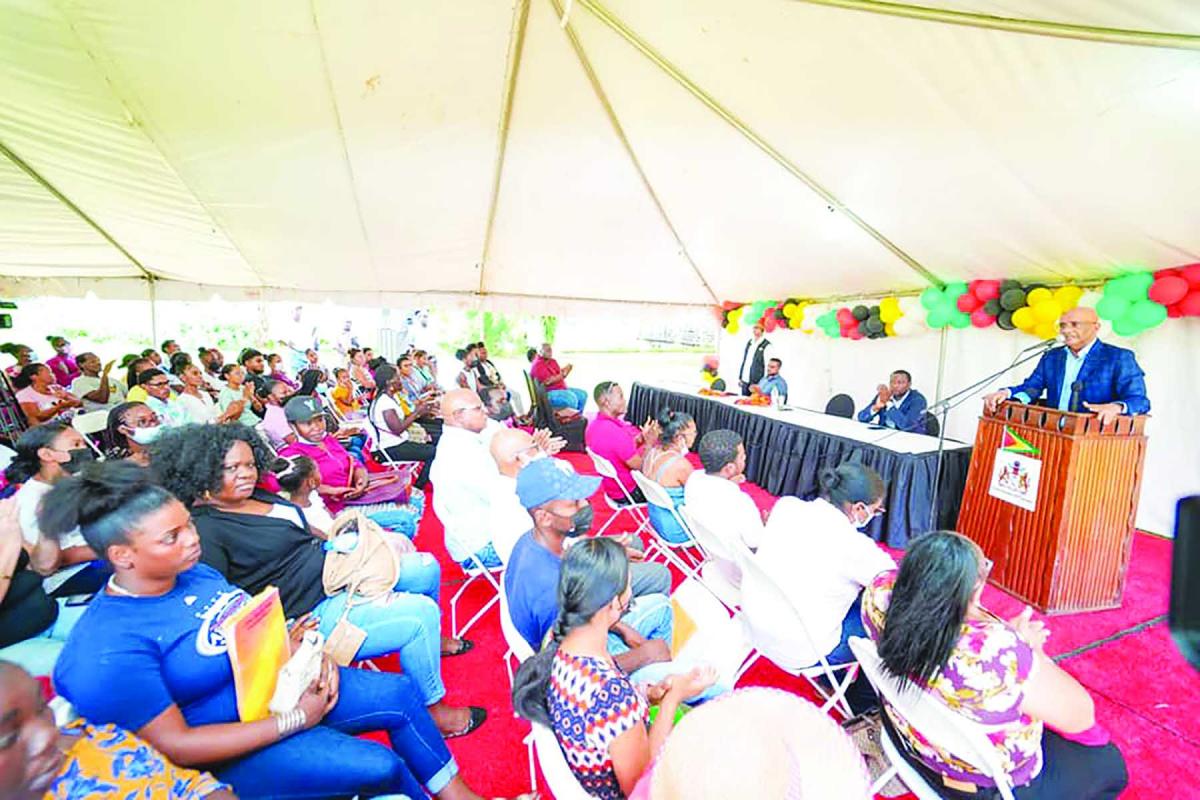 Vice President Bharrat Jagdeo made this revelation while he was in Linden on Saturday to launch the 1000 part-time jobs initiative and also initiate the Government's distribution of $250,000 each in small business grants to 200 persons.
According to Jagdeo, since his last visit to Linden earlier this year, the allocation earmarked for miscellaneous roads in Region 10 has been almost doubled from $550 million to $1 billion. He described it as the largest-ever annual allocation for roads in the region.
"I pointed out that we set aside $550 million to do community roads across the region, in Kwakwani and here in Linden. That is the biggest allocation to the region, ever, in our history, for roads," Jagdeo said.
"But when I came here, people were very concerned about their roads. So, when we went back, we increased it from $550 million to $1 billion now, to be spent on community roads – all the small roads, in many of these areas," he added.
In total, Budget 2022 had allocated $15.2 billion towards the Miscellaneous Road Programme in various regions.
The Vice President also lambasted the parliamentary opposition A Partnership for National Unity/Alliance For Change (APNU/AFC), who he said did little for Region 10, its electoral stronghold, during its five years in office.
"They were talking about roads in the region. You had five years; you didn't do anything much. But now, you're very critical when we've laid out our programme. And we're very much aware of this, because they're in the Parliament too when we present our plans there. But come to lie to people out here and snipe," Jagdeo said.
There is another large project earmarked for Region 10, for which Jagdeo said a tender would go out by year end. This project is the resurfacing of the Linden-Soesdyke Highway and is likely to be funded through the Islamic Development Bank (IsDB), which has to grant approval for a US$120 million loan.
Meanwhile, the Caribbean Development Bank (CDB) has already green lit the Linden-to-Mabura Hill Road project, which is the first link in the highway between Linden and Lethem. Senior Minister in the Office of the President with Responsibility for Finance, Dr Ashni Singh, had announced in February that negotiations would commence with the most responsive bidder, Construtora Queiroz Galvao SA from Brazil.
It is anticipated that this project will provide major support to ease of travel, trade, and general connectivity between Guyana and Brazil and open up vast opportunities by linking Guyana's hinterland communities to Georgetown.
The process leading to the award of this contract followed a stringent and transparent procurement process by which the call for proposals for the prequalification of contractors was made in February 2021. Ten contractors were prequalified, and this list was approved by the CDB in October 2021.
This project would be the largest project ever funded by the CDB, and is one of the most historic projects undertaken in Guyana. The road works include upgrading the existing roadway to an asphaltic concrete surface with two lanes spanning 7.2 metres for 122 kilometres, with the inclusion of five drainage structures.
Construtora Queiroz Galvao SA is a large Brazilian contractor established in 1966. The company specialises in the construction of refineries, roads, bridges, commercial offices, residential buildings, highways, and sewage systems worldwide.
The Linden-to-Lethem Road, a key link between Guyana and Brazil, with the potential to boost trade, is at present little more than an unsurfaced trail that deteriorates in rainfall. As such, the United Kingdom Caribbean Infrastructure Partnership Fund (UKCIF) programme, administered through the CDB, would be providing funding for the first phase of the road: from Linden to Mabura Hill, as well as a crossing at Kurupukari.