APNU/AFC document launch
…document fails to produce a coherent framework to guide national development ꟷ Jagdeo
The APNU/AFC manifesto for the 2020 elections was launched on Friday 14— Valentine's Day—to evoke, as declared by caretaker President David Granger at the head table, the Cummingsburg Accord they signed on the same day in 2015 to coalesce for that election.
Unfortunately, what was evoked by the content of the manifesto were the broken promises of the Accord which were mirrored in the regurgitated 2015 manifesto, along with feeble excuses for their failures.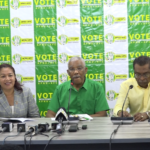 High up in the 2020 manifesto was the regurgitated promise for "constitutional change" which was also given top priority in 2015 but suffered an untimely death after a Steering Committee for Constitutional Change submitted its proposals to Prime Minister Moses Nagamootoo, who buried them in a parliamentary committee.
In fact, AFC Leader Khemraj Ramjattan, who is APNU Leader David Granger's running mate as they seek re-election in office, acknowledged the argument that the touted promise was not delivered and defended this by casting blame in the sugar industry.
"The trouble is that we've had a number of other challenges – one, of course, is, as you know, to ensure that sugar survived and be salvaged, and immediately after that, we had some other challenges…," he told reporters when questioned about the issue.
However, he noted that if the coalition is re-elected, it will fast-track constitutional reform after wide consultation and after experts' advice and parliamentary approval.
"We want to continue countrywide community consultations in relation to others because the wider will of the people is necessary. Not what some of the legal experts and newspapers' writers might want. We intend to expand that consultation process," he contended.
Adding his bit, Granger also defended his Administration's failure to deliver constitutional reform, saying that this process has been ongoing for more than 20 years and that there is a huge amount of unimplemented recommendations.
"It is an extremely complexed process and we intend to complete it. It hasn't been halted but for various reasons, it has not been able to make as much progress as we want to make. Bear in mind, it has passed through three Attorney Generals under the PPP Administration without success and we've been grappling with it but we intend to bring it to conclusion during our next tenure in office," he asserted.
Over the past few years, constitutional reform has been before a parliamentary committee.
There is a Constitutional Reform Commission bill that was to be examined by the committee. But there have been accusations made of members of the committee stalling the process.
Meanwhile, even as the incumbent coalition blames sugar for not being able to reform Guyana's Constitution, it has also failed to come up with tangible solutions for the thousands of workers who were laid off from sugar belt when it downsized the industry to mere three estates – that is, closing the Wales, East Demerara (Enmore), Rose Hall and Skeldon Estates.
In fact, the only provisions outlined in its 2020 manifesto for the displaced workers is to "Establish a State Land Resettlement Commission to enable former sugar workers to access land for housing and agriculture".
But this was not done in the almost four years that Granger unilaterally shuttered the four estates and threw 7000 workers onto the breadlines. Most of those workers still have no alternative employment and their union, the Guyana Agricultural and General Workers Union (GAWU), has dismissed the offer made in recent weeks on the campaign trail as an "electioneering gimmick".
Further, this is the second time the coalition administration has promised to make these lands available, despite the fact that many acres were granted for private investors and other stakeholders.
Another striking initiative contained in the coalition's election plans is the "construction and operation of specialised hospitals to provide modern medical services and excellent primary healthcare services".
A speciality hospital was already in the cards when the coalition took office back in 2015 but APNU/AFC cancelled the project for which the previous PPP Government had secured funding.
The US$18 million project, which was funded by the India Export-Import (EXIM) Bank via a line of credit (LoC), was dropped in 2016 after the contracted company, Fedders Lloyd Corporation Limited, which was handpicked by the coalition administration, was blacklisted by the World Bank until 2020 owing to fraud and corruption practices.
The Guyana Government subsequently announced that the project was "dead".
Some of the recurring promises put forward by the coalition party since 2015 also include the development of Guyana as a 'digital nation', the promotion of gender equality, 'business-friendly' tax regime and investment opportunities.
These are just among some of the unfulfilled promises that the Administration regurgitated in its 2020 elections manifesto. According to Granger at Friday's launch, the coalition's manifesto is not only ambitious but it is also agreeable and attainable.
"We have been very realistic. We have been in Government and we've brought our experience to bear on crafting this manifesto. We will do what we promised to do. We will perform, I'm not making promises. So we're not trying to bamboozle the electorate. We are capable of delivering everything that we've promised in this document before you," he stated.
Meanwhile, Opposition Leader Bharrat Jagdeo said the launch of a 'booklet' which was deemed a manifesto by the APNU coalition was another pathetic move in a series of underwhelming acts of this coalition.
He noted that no right-thinking person would ever believe a single thing they promise in 2020 given that they broke every promise in their 2015 manifesto.
"They are untrustworthy. The launch was the usual comic affair. Dawn Hastings commended the document but said she barely had a glimpse of it. Harmon said the world was adopting the green and yellow colours because their campaign was so vibrant. Trotman emerged from hiding after being exposed for the criminal oil negotiations, to claim that even babies and animals were using their party's colours. Ramjattan was just irredeemable Ramjattan and Granger, as usual, was just as vague and vacuous as the booklet he launched. Guyanese need not look to this document for clarity or inspiration. They will find none. The short document fails to produce a coherent framework to guide national development and a specific set of policies, programmes and projects to enhance the wellbeing of Guyanese," he added.