The number of road traffic accidents in Guyana has declined by 26 percent in the first six months of this year as compared to the same period last year, according to Police Traffic Chief Dion Moore.
Moore, in an interview with the Department of Public Information (DPI,) said the Force recorded 824 traffic accidents in the first six months of 2017, compared to the 1,120 recorded for the same period last year.
He said that of the 824 traffic accidents recorded so far for this year, 168 were serious; 240 were minor; and 48 were fatal, resulting in 51 deaths, one of which was a child. Of the 1,120 accidents recorded for the same period in 2016, serious accidents accounted for180 of those accidents; 295 were minor and 65 were fatal, which resulted in 64 deaths, of which four were children.
The Traffic Chief attributed the reduction in the various categories to the Force's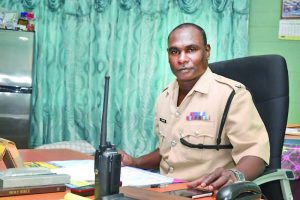 several awareness campaigns and security steps, which are running simultaneously with the National Road Safety Action Plan, 2017-2019.
Moore explained: "There is the daily road safety talks on the radio still ongoing. We also have the Law Enforcement and You on NCN (National Communication Network), (of) which traffic (issues) play a major part."
The National Road Safety Plan 2017-2017 was launched on May 03, 2017, and is aimed at assisting Guyana to meet the Decade of Action for Road Safety, 2011-2020 plan: to reach 50 percent death reduction by 2020.