– says Ramjattan should take responsibility for unrest
In commending the efforts made by the joint services in responding to the crisis at the Georgetown Prison on Sunday last, Opposition Leader Bharrat Jagdeo said the People's Progressive Party/Civic (PPP/C) would encourage the law enforcement agencies to engage in a "large-scale manhunt" for the eight prisoners who escaped from the penitentiary during the fiery unrest.
Jagdeo made these remarks on Wednesday while addressing the media during a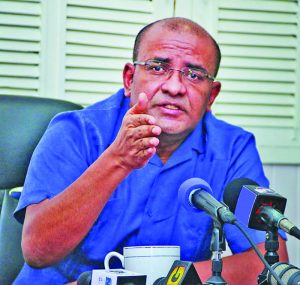 press conference. The former president said his party would give its continued support to the joint services, unlike what had obtained when the present ruling administration had served in the Opposition during the 2002 escape of five prisoners from the Georgetown Prison — which led to the creation of violent gangs and serious crime for many years.
"…no political support from the Opposition; and secondly, we are not going to go to any communities and ask them to provide safe havens for any of the escapees. Our security forces will not be shot at when they go into communities, or have to face an entire community," Jagdeo remarked, while recounting incidents wherein women and children were used to block security forces from going after criminals.
The former head of state also recalled that during the 2002-2009 crime spree, the current Government ministers, who served in the Opposition back then, had also vilified the police; but he said, "No escapee will have political cover now, as they did in the past."
Jagdeo also reiterated that the PPP/C would continue to fully support the security forces as they move to restore law and order in the country.
Government was also criticised by the Opposition Leader for negotiating with prisoners during last year's deadly prison riot that left close to two dozen inmates dead, and for negotiating again with inmates this past Sunday. He described the situation at hand as a "moral hazard" which could get out of control if the Government continues to respond every time to the demands of prisoners.
Using one example of how the Government has given in to the demands made by inmates in this most recent incident, Jagdeo said it was decided, subsequently after the unrest on Sunday, that several inmates would be released on self-bail or be granted shortened prison sentences. "It is going to affect us in the long-term, whoever is there in office. We can't be expedient and sow seeds for another crisis in the future," Jagdeo further warned.
Responsibility
Some level of restraint was exercised by the Opposition since Sunday's prison unrest, to allow the security forces to do their jobs, Jagdeo told media operatives. However, he said now that there is not much cause for optimism, especially since the issue is not being appropriately addressed, he has decided to speak out on the matter.
"What we have seen from the Government does not give us cause for much optimism that they are being truthful and that they are in total command of the situation. Photo opportunities, press conferences, public statements are meaningless unless they are backed by substance. And what we have seen is an early attempt to absolve themselves from any responsibility whatsoever," he opined.
Saying the issue should be treated with more seriousness, Jagdeo referred to statements made by Public Security Minister Khemraj Ramjattan, who claimed that because the Government has had to pump sums of money into the sugar industry, it had to defer implementing various capital projects intended to tighten security at all prisons, as were recommended by the Commission of Inquiry (CoI) which stemmed from the previous incident.
"Ramjattan has to take responsibility for what's going on. He has to take responsibility just like in the past, when they used to call on PPP/C ministers — when there was a problem in the sector — to resign. Well, I've seen lots of public calls for Ramjattan to resign. Maybe he should consider it, or Granger (President) should consider firing him at this point in time," he added.
Jagdeo said that unlike his party, which while in Government was accused of lacking security experience, the now coalition Government is "overladen with national security experience," given the number of former army officials who serve in senior capacities in Government; but they have failed to respond effectively to the crisis; and days later, they are still struggling to get things in order.
The Opposition Leader expressed hope that there will be an emergency session of the National Assembly to have a full debate on the situation, so as to ensure continued public safety.
The Opposition is calling for full disclosure of all aspects of the tragedy that occurred at Camp Street Prison, and has repeated calls for full disclosure to likewise be made of all aspects of the identical tragedy — including loss of lives and destruction of property — that occurred there in March 2016.