Long having established himself as one of Guyana's leading cyclists, Hamzah Eastman continued his fine form on the overseas circuits when he copped a podium spot in Anguilla.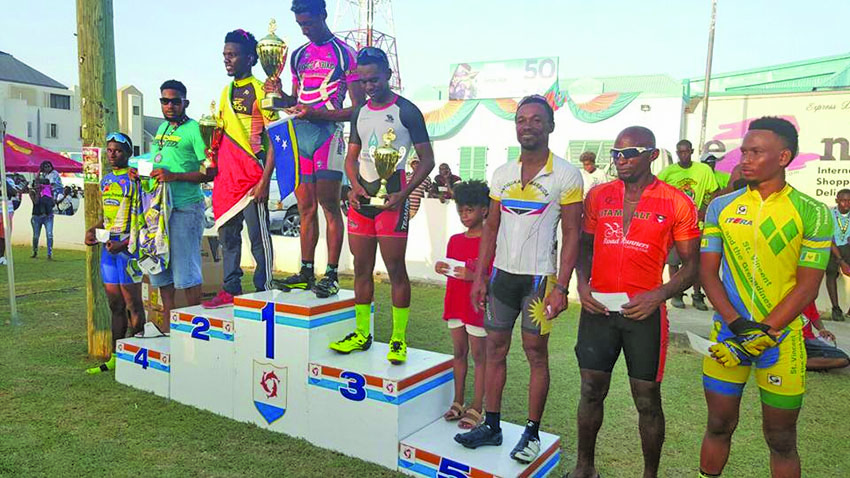 Eastman who rides for Team Coco, placed second in Anguilla's 18th Annual John T. Memorial Cycling race on Sunday. Competing in the Elite category 7-lap event, Eastman finished in a time of 3hrs56m32.44s to take second behind Curacao's Hilliard Cijntje who pipped the Guyanese to take first in 3 hours 56 minutes 30.94 seconds. Barbadian Russell Elcock finished third with 3a time of hrs56m33.14s while Anguillan Hasani Hennis, Antiguan Robert Marsh and Sherwyn Osborne also of Anguilla closed out the top six in that order.
Also featuring in the John T. Memorial race was Veteran Guyanese cyclist, Junior Niles who competed in the Masters 5-lap race. Niles gave a good account of himself and finished 7th among a field of 21 cyclists. His time was 3hrs8m19.17s for seventh.
The St Maarten duo of Dick Luttekes (2hrs53m21.78s) and Mark Maidwell (2hrs58.45.80s) copped first and second place respectively.
Antigua's Sean Weathered came in third behind Maidwell while Antoine Landeford, Patricio Carty, and Otis Cotton all of St Maarten closed out the top six.