…30,000 additional vaccines arrive
Three more persons have died, pushing the country's COVID-19 death toll up to 258.
The latest fatalities are two 64-year-old men from Region Four (Demerara-Mahaica) and a 60-year-old woman from Region Three (Essequibo Islands-West Demerara). All three persons died while receiving care at a medical facility.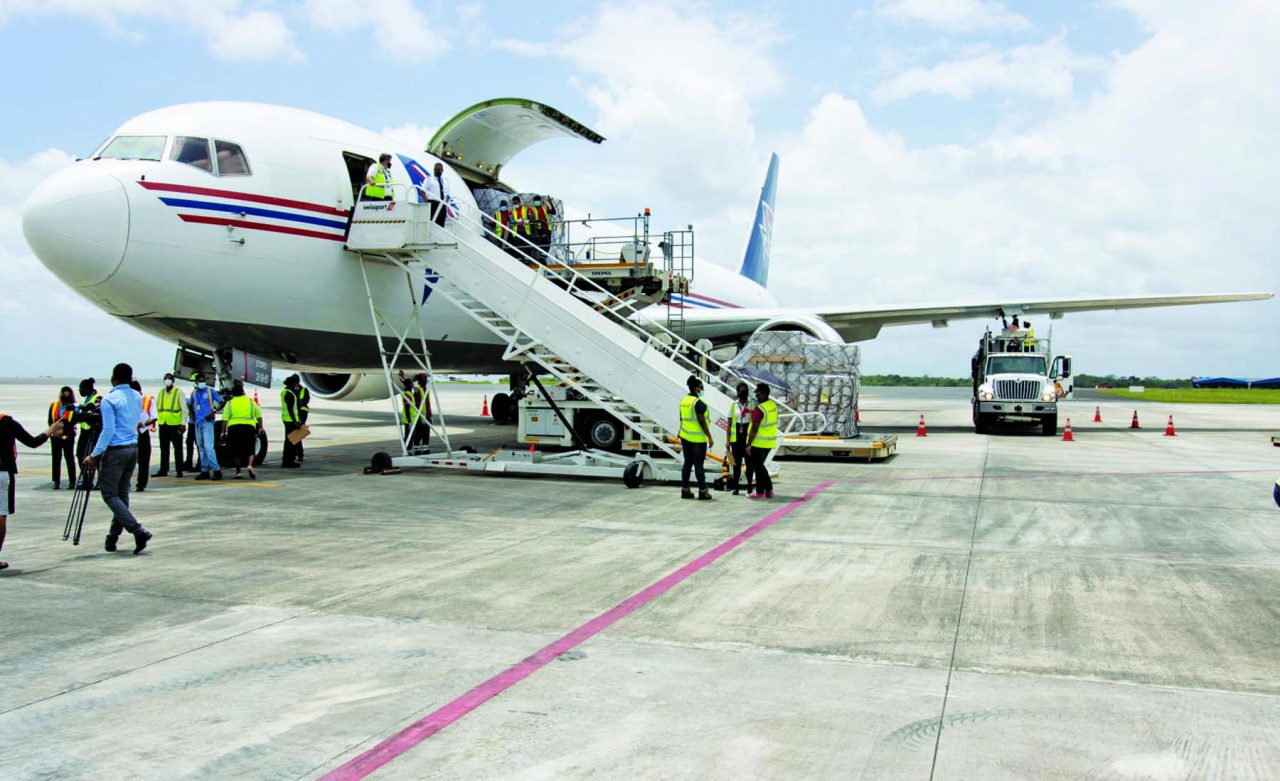 On Monday, some 40 new COVID-19 cases were confirmed, taking the total positives to 11,189. In the facilities, a whopping 17 patients are in the Intensive Care Unit, 74 in institutional isolation, 13 in institutional quarantine and 1090 in home isolation. Some 9751 of the 5683 males and 5506 females have recovered completely. Guyana has since tested 99,746 individuals.
A breakdown of new cases showed that 12 were detected in Region Three (Essequibo Islands-West Demerara), 17 in Region Four (Demerara-Mahaica), four in Region Five (Mahaica-Berbice), and six in Region Six (East Berbice-Corentyne).
The cases in Regions One (Barima-Waini), Two (Pomeroon-Supenaam), Seven (Cuyuni-Mazaruni), Eight (Potaro-Siparuni), Nine (Upper Takutu-Upper Essequibo) and 10 (Upper Demerara-Berbice) remain at 1029, 276, 973, 247, 449, and 777 respectively.
Meanwhile, the second batch of 30,000 doses of the Sputnik V vaccine, purchased by the Government of Guyana from Russia, also arrived at the Cheddi Jagan International Airport (CJIA) onboard an Amerijet International flight.
The shots, manufactured by Russia, are part of 200,000 purchased by Government. Some US$4 million has been spent to acquire the total tranche, at a cost of US$20 per dose. Two weeks ago, a consignment of 25,000 Sputnik V vaccines was delivered to Guyana.
As the country continues to roll out its COVID-19 vaccination programme, Government continues to approach various bilateral partners and manufacturers to acquire more vaccines for its population.
Health Minister Dr Frank Anthony said one of the latest entities approached was Johnson and Johnson, an American multinational corporation.
"Last week we had some discussions with Johnson and Johnson to explore the possibility of accessing the vaccine from that particular company. So, we are still engaged in talks with different manufacturers of vaccines and as those talks mature, we will let the public know," the Minister explained during his daily COVID-19 update.
The Johnson and Johnson vaccine has an efficacy rate of 66.3 per cent. Guyana has so far received vaccines from Sputnik V through Russia; AstraZeneca through India, Barbados and under the COVAX mechanism; and Sinopharm from China.
Dr Anthony explained that so far, they have been able to administer the first dose of the COVID-19 vaccine to over 60,172 persons. Based on reports, no one has experienced any adverse side effect from the vaccines. He along with his wife, Dr Shanti Singh, recently got inoculated with the Sputnik V vaccine from Russia.
"I didn't have any side effects. My wife did not have any side effects as well. Different people will react differently to vaccines. Most of the side effects is basically a reaction one would expect. From the vaccines that we have given so far, people would complain about fever, chills, pain at the site of injection and so forth," he said.
There are 100 fixed and mobile sites spanning all administrative regions, where persons over the age of 40 and healthcare workers can get themselves inoculated.