COVID-19 pandemic
President Dr Irfaan Ali on Monday reprimanded Guyanese for the reckless behaviour displayed during the current coronavirus pandemic, where flouting of the national measures and guidelines persists despite the law enforcement crackdown.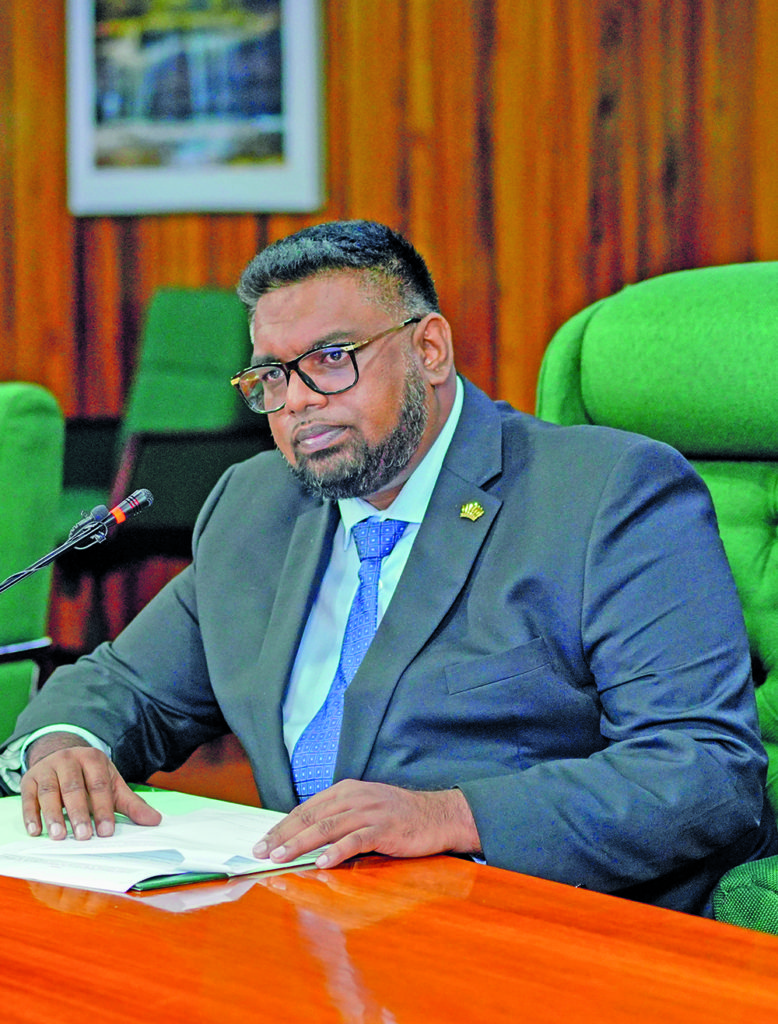 Speaking during an interview with media operatives, the Head of State questioned whether citizens place any value on their lives or realise the implications which their irresponsible behaviour could have on others.
"Guyanese have to understand this is not a joke. This is their lives they're playing with. You can't put your life in the hands of the Task Force. You have to have value for your life. If you don't understand that your life has a value, then at least understand that your actions will impact other persons' lives and appreciate the value that other people place to their lives."
Recently, the Joint Services would have rounded up scores of persons in buses after they attended social gatherings beyond curfew hours and disregarded the guidelines. The President rapped these individuals for their conduct and others on social media who failed to comprehend the gravity of these incidents.
He lamented, "It is time for us to understand that sometimes we have to take responsibility and this is a case and a scenario in which we have to exercise that. If you look at the army bus the other night, I see responsible people sharing this on social media like it is some big joke. The reckless behaviour in that bus…What they were behaving with in that bus is reckless."
Within weeks, law enforcement has stepped up its response to ensure that the guidelines are followed and have been more stringent in their strategies. Ali indicated that the only possible alternative is to process persons through the judicial system for these offences.
"We have really stepped up. The Task Force is doing a good job. They are out there every night until 3-4 hours in the morning but people have a responsibility too…You would have seen that we would have stepped up tremendously. The Task Force has been doing more patrols. They're more aggressive and the only other thing now is to have the courts sentencing people."
Guyanese were urged yet again to take the pandemic seriously, as arresting persons would also strain the Police stations' limited capacity to ensure all measures are followed.
President Ali advised, "This thing can only be managed if we are all responsible and we have to act in a responsible way. If the Police pick up 300 persons and take them to the station, then you have another problem because you will go there and overcrowd the station and we'll have more difficulties. At the end of the day, we have to act as a collective. We are behaving sometimes as if this pandemic doesn't exist."
Anyone who fails to comply with the national measures commits an offence under Section 152 of the Public Health Ordinance and is liable on summary conviction to the penalty under that section.
Last weekend, 21 persons were arrested for breaching the COVID-19 guidelines. A total of 12 persons were arrested at Mabaruma, North West District (NWD), Region One (Barima-Waini), while the others were arrested at Vergenoegen, Region Three (Essequibo Islands-West Demerara).
On Easter Monday a number of Essequibians were caught in large gatherings and were arrested for breaching the COVID-19 guidelines. The violators were arrested at Adventure Resort, Lake Mainstay Resort, Golden Fleece and Capoey Lake.
Also, 40 persons were arrested during a COVID-19 patrol operation along the East Bank of Demerara (EBD). Police said those persons were also in breach of the COVID-19 restrictions at the Boat House Bar at Land of Canaan, EBD.
Additionally, 27 persons were arrested sometime last week after they were found gathering at the Homme Hospitality Hotel and Bar. They were later placed on cash bail, pending court appearances.
Reports also revealed that some 23 persons were arrested at the Sleep-In Hotel, located on Church Street, 20 at the Altitude Bar on Sandy Babb Street, and, 31 at the Kairos Bar on Charlotte Street. Those arrests were also made sometime last week.
In March, popular music selector Negus Mcfarlane known as "Selector Seen Up" and two other men were sentenced to perform 40 hours of community service at D'Urban Park in Georgetown after they appeared in court and pleaded guilty to hosting a party, thereby breaching the gazetted COVID-19 orders.