A woman, her husband and her father-in-law have been rushed to the Suddie Hospital on the Essequibo Coast, Region Two (Pomeroon-Supenaam), after being shot by a man during a dispute over land.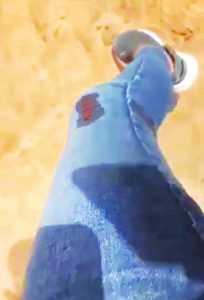 The incident occurred at Fairfield, Essequibo Coast on Monday afternoon, and the injured persons are Rajkumarie Ragobar, Sattohan Maraj and Roopchand Maraj, all of whom are residents of the Essequibo Coast.
Roopchand told Guyana Times from his hospital bed that the dispute over the land had arisen two weeks ago, when the suspect had claimed ownership of the land. Roopchand says the land belongs to his aunt, who had allegedly given him permission to store his machines there, as they needed access to the sand that was being stored at the back of the land.
Roopchand has said that despite seeking help from the authorities to move his machines from the land, he was unsuccessful. He said that on Monday, at about 13:50h, he and his family returned to the land to move their machines and access the sand, since they had a contract to build an access road. However, they were met with a barrage of gunfire from the suspect, who opened fire on them.
"I had to hide because shots started firing steadily," Roopchand Maraj has said. "As soon as I went on the land, I got shot. My two sons came over to see that we move the machines off of the land, and as soon as they saw people getting shot, they started to move the machines and take the car and block it", he explained.
Following the shooting, the family members were rushed to the hospital, where they are currently being treated for their injuries.
Police have since launched an investigation, which is ongoing.