A $40.9 million contract was signed on Monday between the Government of Guyana and Rakesh Samaroo of Builders Hardware for the construction of a state-of-the-art operating theatre at the Suddie Hospital. Signing on behalf of the Government was Regional Executive Officer (REO) Rupert Hopkinson, who said that he was very happy that Region Two (Pomeroon-Supenaam) would finally get a state-of-the-art operating theatre.
He noted that the Region requested this through its budget a long time ago, but he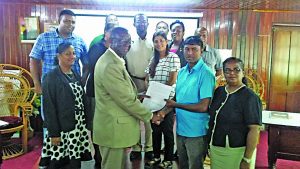 was, nevertheless, happy that it was approved in 2018.
Hopkinson stated that he had full confidence the contractor would do a good job because of his track records, and hoped that the project would be completed within the four-month period estimated.
Regional Health Officer (RHO), Dr Afarah Khan was supportive of the project, and as such, would seek the advice of the Regional Engineer with respect to monitoring the project.
Minister within the Public Infrastructure Ministry, Annette Ferguson encouraged the contractor to use local skilled persons in the area. She also called for quality work.
Presently, the theatre at Suddie Hospital cannot deal with all of the current cases and as such, patients who have to undergo major surgery are transferred to the West Demerara Regional Hospital or even the Georgetown Public Hospital.
When completed, the operating theatre at Suddie is expected to take care of all relevant patients in Region Two.