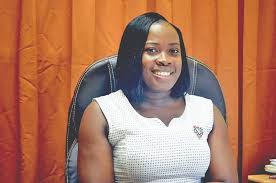 – Job fair caters only for 200 of the 600 applications
The Department of Youth has taken note of the whopping 40 per cent unemployment rate among youths in Guyana and will be hosting the first job fair on Friday where young people will be interviewed on the spot with the hope of gaining meaningful employment.
This was revealed by the Department on Wednesday during a press conference where the Youth Director, Melissa Carmichael, told the media that over 600 applications were received, although the Department was initially catering for about 200.
Social Cohesion Minister with responsibility for Culture, Youth and Sport, Dr Norton said that the job fair was inspired by the large amount of jobless youths.
The Minister explained, "The Department of Youth recognises that youth unemployment is one of the greatest challenges among the nation's most valuable assets, youth. Statistics show that young people constitute one-quarter of the world's population in the developing nations. This signals a vibrant and hopeful resource for the world…statistics show that approximately 40 per cent of the youth population in Guyana is unemployed. The Department of Youth recognises this scourge, seeks to bring Private Sector and Government agencies together to tackle this growing issue".
It is against this backdrop that the Department of Youth has decided to host its first youth fair at the National Sports Hall.
Carmichael told reporters that while the fair may not be the biggest, she looks forward to a great turnout and lasting impact. "While it is not the biggest one, we believe that with the companies on board, it will certainly make a great impact," she stated.
A few of the companies who are seeking to hire the youths on Friday are Courts Guyana Inc, Qualfon, Guyana Telephone and Telegraph company (GT&T), Demerara Distillers Limited (DDL) and Giftland.
Carmichael said that only those applicants who would have completed their secondary education will be considered.
Most of the positions, she informed, will be for customer care representative while others may be technical.
According to her, the job fair will be geared towards providing a space for information sharing, providing an avenue for young people to speak to Human Resources officers at companies to voice their concerns and more importantly, being interviewed and hired for respective posts at participating agencies, among others.
She stressed the importance of having young people interact with Human Resources officers as many times they are not given a chance to speak with them to address their worries.
In 2012, the Bureau of Statistics conducted a survey which found that 10,326 or 37 per cent of the 17,571 Guyanese between the ages of 15 and 19 were unemployed.
The Bureau said that in 2002, the unemployment rate for this age group stood at 38 per cent.
The high rate of youth unemployment has triggered a number of negative effects. Only in January, the Caricom Secretary General, Ambassador Irwin LaRocque said that 80 per cent of prosecuted crimes are committed by youths between the ages of 19 and 29.
In February Chartered Accountant Christopher Ram, told Guyana Times that unemployment will present a major challenge in the coming years.
Ram spoke of some of the reasons for Guyana's low employment rate and also expressed the belief that not enough attention is being paid to its economic and social side.
"Part of the problem we have is that we have a very low wage economy," Ram said, adding "and it discourages people entering into the employment sector. If you get the minimum wage and you have to spend 20 per cent of it on transportation alone, it's not a great motivator for you to work".