It's chess, known to many as the gymnasium of the mind, instead of cricket at the National Stadium this weekend.
All chess players are invited to the fourth GAICO Construction Grand Prix chess tournament at the Providence venue on Saturday from 2:30PM (14:30hrs).
Registration begins at 12:30hrs in the tournament hall at the venue for the seven-round event. Junior players are free while seniors are required to pay $500 each.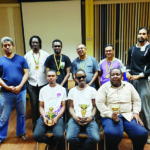 The time control per player for each round is 90 minutes plus 30 seconds increment after every move.
The intense battles over the chess board will resume once again as seasoned chess players compete to accumulate Grand Prix points to make the Guyana team for the 2020 Chess Olympiad in Russia.
The accumulated scores from the four GAICO tournaments would be tallied with the scores of two remaining tournaments, the Senior Championship Qualifier and the National Senior Chess Championship scheduled for the first quarter of 2020.
Players with the best scores at the climax of the six rigorous tournaments will then be selected for the Guyana team.