Once again, the Cliff Anderson Sports Hall will be the place to be, with the already launched Titan Bowl X seeing some of Guyana's top basketball student-athletes battling for supremacy in their respective age categories.
This event is the final school tournament of the year, and will include eight U18 male teams, eight U16 male teams, and four female teams.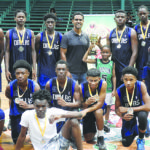 Team rosters for Titan Bowl X shall consist of ten (10) players, one (1) in each division.
The event, which began on Thursday and runs until Sunday, features three divisions. In the male U18 section, the competing teams are President's College, Kwakwani, NATI, Marian Academy, St. Stanislaus College, the Bishops' High, GTI and Christ Church Secondary.
The male U16 section features President's College, Kwakwani, St. Roses High, Marian Academy, the Bishops' High, St. Stanislaus College, Plaisance Secondary and Arima Secondary.
In the female U18 section, the teams will be Marian Academy, Kwakwani, Queen's College and St. Stanislaus College.
In 2018, an MVP-performance from Jada Mohan was all it took for Marian Academy to sink Kwakwani Secondary 58–19 and take home the female Youth Basketball Guyana (YBG) Titan Bowl title.
In the male category, the Government Technical Institute (GTI) had the better of the Linden Technical Institute (LTI) in a ten-point thriller (83–73), to keep the trophy in Georgetown.
The male division(s) will be played in a knockout format, while the females will each play two games, the second of which will be an elimination. The winners will contest the finals.
The tournament shall be guided using a modified version of general basketball rules.
All games will be twenty (20) minutes' running time per half, with stoppage for time-outs, and the last two minutes of the game, and last minute of extra time. Under 18 male finals (only) will be played in four quarters of 10 minutes' stoppage time.
There will be no third-place playoffs.