GCA/NBS 2nd Division 40-Over Competition…
The cricket season is set for resumption on January 18-19, 2020 with commencement of the GCA/NBS 2nd Division 40-Over competition, and Chairman of the Georgetown Cricket Association's (GCA's) Competitions Committee, Shaun Massiah, is hoping that rain does not hamper this impending season.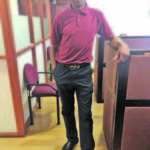 Inclement weather has forced a halt to this season, leaving vital matches to be played upon its resumption.
Massiah told Guyana Times Sport. "What I can expect is what I know for sure — that teams will be coming harder in the competition. They all will be vying for the semifinals and the final, which will be played under lights. From the (level of the) winner and runner-up of that final, the teams have a chance to compete in 'the Clash of the Champions'. This competition will see the winner and runner-up (teams) from Georgetown battling the winner and runner-up teams from Berbice.
"I expect that the Georgetown teams will be more competitive, and we will see emerging players coming out of this competition so they can move on to the next level."
Massiah said each team has experienced players, and those are expected to lead from the front, since the younger ones would be looking up to them for guidance.
He noted that senior players would be expected to employ their best efforts to win games, since they would want to advance in the rankings, and even be selected for franchise cricket.
Massiah reminded that the most points a team may garner from a complete game is 20. Ten points are guaranteed for a win, five are guaranteed for scoring in excess of 200 runs, and five for taking all ten wickets in a match.
Teams in 'Zone A' are as follows: Muslim Youth Organisation, University of Guyana, Third Class, Guyana Defence Force, Diplomats, Gandhi Youth Organisation, Malteenoes, and the GCC.
Teams in 'Zone B' are: Sophia, Police, Everest, Ace Warriors, Transport, Demerara Cricket Club and GNIC.