The University of the West Indies and other Caribbean agencies on Thursday joined hands to tackle climate change, focusing on the ways in which countries can build resilience.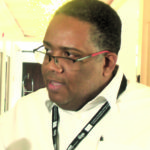 Officials from the University of Guyana, the Caribbean Development Bank, and the Natural Disaster Risk Management were involved in the process of equipping the region to handle the effects of climate change.
Climate change is defined as a change in global or regional climate patterns, attributed largely to the increased levels of atmospheric carbon dioxide produced by the use of fossil fuels.
Professor at the UWI, Michael Taylor, explained that this resilience is also for faster recovery from natural disasters. In many cases, hurricanes prove deadly for the region during the warmer periods. Presently, the expected seasonal climates are changing drastically.
"Much of the world is becoming increasingly hotter so we get hot days and we get hot nights. In the span of a year, we are seeing more really hot days and really hot nights. Our whole rainfall regime is changing and rain is not falling like how it used to fall. What we think is supposed to be our wet season, we don't get it and then suddenly it reappears," he explained.
The Professor added, "When you have wind events or storm events, there is intense flooding. In parts of the Caribbean, that is manifested by more hurricanes…An extreme is also something like drought and what we have seen is that in five of the last 10 years, the region has been in severe region-wide drought".
He also outlined some cases where climate change severely affects various sectors, adding that it might have a ripple effect on other dependable industries.
"There is a significant immediate devastating effect of a hurricane or a flood and that has effects right across our society in terms of damage to infrastructure including health infrastructure, security infrastructure, roadways and that kind of thing. It cost your economy quite a lot," he furthered.
With assistance from the CDB, the Caribbean Climate Report which will be released shortly. It was birthed to provide persons with information about the climate in their zone.
"Here is a first stop where you can go and get the information that you need. We're not saying that it is the only report but it will point you to other places where you can find other information".