Robert Ramcharran, Carole James-Boston, Stephen Fraser, Rajendra Poonai and Shalimar Ali-Hack were on Friday appointed Senior Counsel (conferred with silk) at a special sitting of the Full Court of the Supreme Court of Judicature.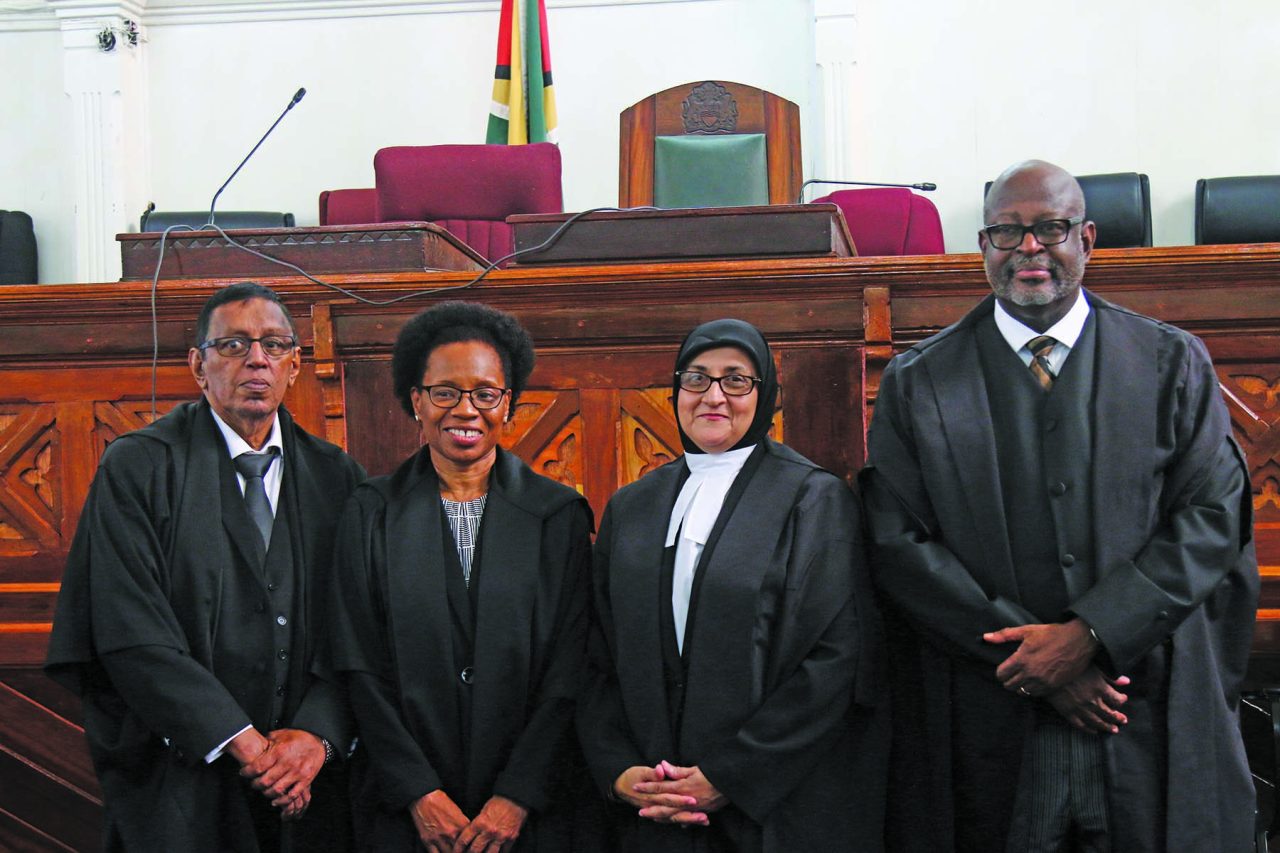 The five legal luminaries were all spoken greatly of by Attorney General and Legal Affairs Minister Basil Williams.
Ramcharran, the AG said, worked as a teacher and clerk at the court before studying law. He has since practiced in every magisterial district in Guyana.
The humble legal minds reflected on how they came from nothing, some starting out without even a sound secondary education.
Ramcharran said it was a very significant milestone for him. In fact, 40 years ago, he did not even dream of having or standing at such an occasion.
James-Boston, on the other hand, knew she wanted to become a lawyer since she was eight years old.
She graduated from the University of the West Indies (UWI) and completed training in the late 1980s.
She then became an associate Attorney-at-Law and was made a partner of the law firm Boston and Boston. She has over 23 years' experience in the field.
Her colleague, Fraser, also a graduate of UWI as well as the University of Guyana (UG), began his career as an associate Attorney as well. Fraser practised civil and criminal law and later was admitted to practise law in the Organisation of Eastern Caribbean States (OECS).
The next recipient of the honour, Rajendra Poonai was described as a "distinguished Attorney-at-Law" with 31 years of practice. He served as an economist and was even an associate lecturer at UG from 1981 to 1984.
Poonai was fortunate to have appeared in matters before the Caribbean Court of Justice (CCJ) in the past.
The fifth person to be conferred with silk was Ali-Hack. In her earlier years, she received a government scholarship to pursue studies. After obtaining a legal certificate, she was admitted to outer bar, which marked the beginning of her career.
She was recognised as the first Muslim Attorney-at-Law in Guyana to dress in her traditional religious clothing since 1995. In 2008, she became the first woman appointed by the Judicial Service Commission as Director of Public Prosecutions. Moreover, she is also the first female Muslim Attorney to be appointed SC. She was described as a "true daughter of the soil".
Transparency
A representative from the Guyana Bar Association said he believed there ought to be a transparent process for the selection of persons to be so elevated.
He reasoned in his almost 10-minute presentation, "It is all good and harbouring to describe the utopian principles of public practice and procedure, but it is often a different proposition when it comes to the implementation…we have been consistently calling for transparency in the Department by repeatedly without success seeking to have a criteria for appointment. For the integrity of any legal process to be maintained, we at the Bar humbly submit that clarity, certainty and predictability are required."
He maintained that the process by which these persons are selected should not be a difficult one but in fact based on some transparency.
Nonetheless, he congratulated the recipients on their hard work that allowed them to achieve this medal of success.
The SC honour
Friday's event marked the third such sitting following the resuscitation of the tradition of conferral of silk by President David Granger.
The honour of silk is conferred on an eminent lawyer. The conferment was by the Crown that is the King or Queen, hence King's Counsel was abbreviated to KC and Queen's Counsel, QC, but now in the Republic State of Guyana, they are referred to as Senior Advocate or Senior Counsel (SC).
This status is recognised by the courts and they have the privilege of sitting in the Bar at the Court where they are considered members of the "inner bar". Since members wear silk gowns of a specific design, the counsels are usually referred to as silk.
The newly-appointed men and women were applauded by the acting Chief Justice Roxane George and acting Chancellor of the Judiciary, Yonette Cummings-Edwards.