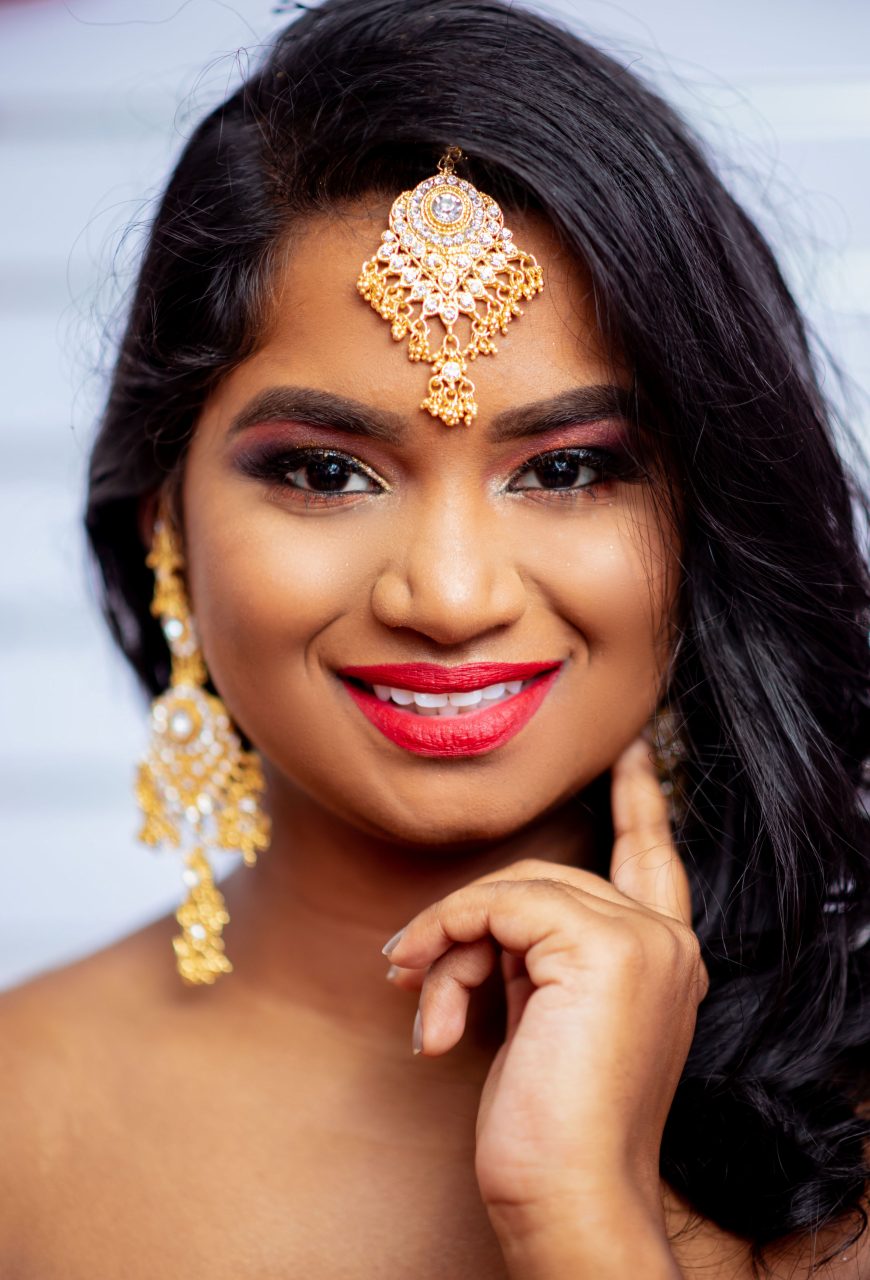 Six young ladies were short-listed as finalists to compete in the upcoming Miss Guyana India Pageant slated for later in the year.
The chosen delegates have been described as the cream of the crop. The winner of the pageant is expected to travel to India to compete in the international pageant. The delegates will be officially unveiled and sashed on Saturday at the Ramada Princess Hotel commencing at 19:00h. Admission to the event is absolutely free.
Delegate #1 – Shorona Haniff
Shorona Haniff was born on September 29, 1993 and hails from the small village of Clonbrook, East Coast Demerara.
This 25-year-old beauty is pursuing an Association of Chartered Certified Accountants (ACCA) professional accounting certification, and is the former Miss Guyana Talented Teen 2011.
Shorona's passion is music: all her life she has been developing this talent, using it to serve and lift the spirit of everyone around her. She believes in in the words of Shakespeare: "If music be the food of love, play on."
It is her dream that through music she can contribute to fostering love and unity among the people of the world.
Delegate #2 – Dianna Persaud
Four years ago, she had no idea where she would be or who she would become, but Dianna has always believed one's past does not determine their future. "A school dropout" was the label Dianna wore for two years. Being a school dropout is not something to be proud of, but the decision she took made the difference.
This 21-year-old beauty returned to school and graduated with honours – the valedictorian of Camille's Institute's Class of 2017.
She also participated in Miss World Guyana 2018 as a finalist. Her biggest desire is to house less fortunate children and restore their hope for a better life, because they are the future.
Dianna says: "I have a passion for teaching and learning new things; the best way I express my self is through music. My motto is "Your past doesn't determine your future.""
Delegate #3 – Rashena Sara Hanif
Rashena was born on March 19, 2001 in Georgetown. She completed her high school education and wrote the Caribbean Secondary Education Certificate Examinations at Al-Ghazali Islamic Academy (AIA) in 2017. During her years at AIA, she received the 'Student of the Month' award in September 2014.
She now studies pre-law, sociology and psychology at the School of the Nations. During her first year, she was given the opportunity to attend the London International Academy in London, Ontario, Canada, to do a Winter STEM Course.
Rashena expresses her artistic side through make-up. Her passion for makeup began at the tender age of 16, and she discovered that she had a talent for it – doing make-up for friends and photo shoots as a part-time job.
Two other hobbies of Rashena's are modelling and dancing.
Delegate #4 – Sandeka Rampersaud
Introducing 23-year-old Sandeka Rampersaud. She was born and raised on the quiet and harmonious island of Wakenaam, which is one of the more than 365 located in the mouth of the Essequibo River.
Being the youngest of three girls, she grew up very cultured and sheltered and frequented the Melville Mandir, where she sang and learned to play the drums and harmonium as well as speak Hindi.
Sandeka is often described as an approachable, amiable, outgoing and hardworking young lady with a curious mind and an old soul.
She completed her secondary education at Essequibo Islands Secondary School. She then pursued a diploma in marketing at the University of Guyana, graduating in 2016. During her studies, she was an employee of Scotiabank Guyana.
After a few years of serving the aforementioned organisation, Sandeka decided it was time to embark on a new journey. She is currently an employee of the Embassy of the Argentine Republic to the Cooperative Republic of Guyana.
Her studies did not end at the University as Sandeka is currently an intermediate student pursuing Spanish as a second language.
Delegate #5 – Hemwantie Seodat
Friendly, career-oriented, "bookworm", filmy, goofy and insanely in love with her beautiful Indian culture are some of the things that make Hemwantie Seodat the young lady she is. Hemwantie, fondly called Kimmy, is 20 years old.
She hails from humble beginnings and was taught that education was the only way to succeed.
Hemwantie says growing up among cousins has contributed to making her a social butterfly, but also taught her values such as compassion, sharing, tolerance and patience.
Throughout her life, conditions were not always favourable, but her parents provided for them to the best of their abilities, teaching her to be grateful.
Growing up in a Hindu household, going to temple, being a part of each festival, taking part in school programmes and attending Saraswati Vidya Niketan have all made her appreciate the Indian culture a whole lot more.
She received a scholarship from the Shri Devi Global Humanitarian Mandir in 2015 to pursue tertiary education. "As such, I volunteered to teach at their computer centre in Tuschen to help make children computer literate," Hemwantie related.
"Currently, I am a final-year International Relations student at the University of Guyana, and also the Vice President of the Hindu Society of UG. "
She was a proud top five finalist at the Miss World Guyana 2017 pageant and winner of the Beauty with a Purpose segment of the pageant.
Delegate #6 – Diana Ahmad
Diana Ahmad is a breath of fresh air for anyone who meets her. Exceptionally hard-working, determined and goal-oriented, this 5'5" young lady is a force to be reckoned with.
Dubbed in local media circles as the "dynamite shortie" for her fiery personality, Diana was brought up in a humble, Christian home, as an active member of the St Andrew's Lutheran Parish. She is the only child of her parents, whom she considers to be her world.
Diana graduated with honours from the most prestigious high school in the Caribbean, Queen's College, obtaining passes in 10 subjects at CXC, inclusive of six distinctions, after which she attempted to obtain four CAPE subjects.
However, owing to financial circumstances, Diana chose to leave Queen's College and instead enter the world of work, starting her career in banking at the age of 18. She has been in the banking industry for the past nine years and also lectures.
Although juggling two jobs and a whole host of extracurricular activities, Diana still continued her studies as she became a member of the Association of Business Executives (ABE) and the Institute of Commercial Management, obtaining diplomas in Business Management and Project Management respectively. She is currently pursuing a degree in marketing with the ABE.