…as works progress on 1st 250 acres; zone to connect to overall development
President Dr Irfaan Ali on Tuesday embarked on extensive tours of ongoing infrastructural developments along the East Coast corridor from Conversation Tree to Enmore, where he revealed that 800 acres of land will be developed into the Enmore industrial zone.
The President, who was accompanied by Minister within the Ministry of Public Works Deodat Indar and other technical staff, explained that already, works are progressing on the first 250 acres. Once completed, the Enmore industrial zone will accommodate both light and heavy industrial and commercial activities.
"Enmore is going to be specifically for heavy industrial, industrial, heavy commercial and commercial activities. Works are ongoing now to open up the first 50 five-acre plots. That's 250 acres of industrial. After that, 500 acres will be developed for industrial, commercial and light commercial."
"So, we'll have a total of about 800 acres of land, developed in Enmore for industrial, commercial and light commercia. The work is already started, as you can see here," President Ali said, pointing to a map showing the access road to enter the industrial site.
According to him, all the ongoing works in Enmore will be connected to the main East Coast highway and thus, connect back to Ogle where work continues on the Ogle to Eccles four lane highway. The plan, according to President Ali, is for easy access from Enmore to Aubrey Barker Road in South Georgetown and then Cummings Lodge.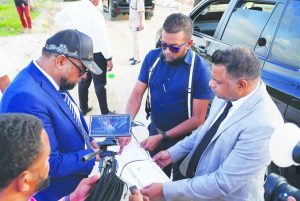 "It's a complete horseshoe, connected to Ogle. Ogle is connected to Houston. Houston is connected to shore base. Then as you go on, you'll get to the new overpass that will connect you to the new Demerara River bridge, over to the four-lane highway. Then the four-lane highway continues all the way to Diamond."
"Diamond to Busby Dam is about to be tendered. Next weekend. Then initially, we are planning Busby Dam to Land of Canaan and then Silica City. So of course, very soon we'll be signing the loan for the rebuild of the Soesdyke-Linden Highway. That will lead into the new highway from Linden to Mabura Hill. So, this is the massive infrastructure transformation," President Ali further detailed.
When tenders went out for the infrastructural development of the Enmore industrial zone, an important project the Government has said will create numerous economic opportunities on the ECD and create as much as 4000 jobs, it had attracted multiple bids from local companies.
Industrial zone
The industrial zone is being built in lots one to six, and according to the bids that were opened at the National Procurement and Tender Administration Board (NPTAB), as many as ten companies submitted bids. B&J Civil Works bid for lots one, two and three. However, the remaining firms did not restrict themselves.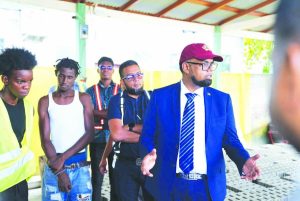 Abrams General Contracting Service Inc, R Kissoon Contracting Service, R Bassoo and Son construction, Pro Build Hardware, Sat Sais International, M&P Investment Incorporated, Nabi Construction, R&G Bacchus Mining, Quality Deliverer, Associated Construction Services and J&R General Construction Services bid for all six available lots.
Preparatory work included the clearing of obstacles and construction of internal roads for the Enmore industrial zone, which will be situated on land formerly used by the Guyana Sugar Corporation (GuySuCo).
As far back as 2021, the People's Progressive Party/Civic (PPP/C) Government has been making it clear there are major plans to convert the Enmore Sugar Estate that was closed under the former Administration of A Partnership for National Unity/Alliance For Change (APNU/AFC), into an employment hub for the ECD.
The private sector has also come on board, with an agreement being signed last year for majority Guyanese-owned joint venture company Guysons K+B (GKB) Industries Inc, which has acquired 55 acres of land in Enmore from the Guyana Government, to establish a fabrication facility that would be offering services to the oil and gas industry.
The services to be offered would include tubular goods, premium threading and accessory services, as well as turnkey manufacturing solutions. Over 500 job opportunities are expected to be created over the next five years with the coming on stream of this US$35 million investment.
The company also started a training needs assessment and administrative process last year to employ over 40 workers from GuySuCo's Enmore Sugar Packaging Facility, in keeping with an agreement with the State to train and employ Enmore sugar workers at the industrial development site.
Other projects
Among the other visits President Ali made, was to the ongoing construction of 700 young professional homes in La Bonne Intention (LBI) where he inspected the works. Contractors are working to construct the homes before year-end. Minister Indar meanwhile noted during the visit that the development at LBI is strategically positioned to provide seamless traffic from the community and Georgetown.
President Ali also inspected works on the $1.8 billion Conversation Tree project that is underway through the Ministry of Public Works. It was observed during the visit that the contractor is currently constructing concrete drains along the 4-lane road project.
While President Ali said the road will be incorporated with the Ogle-Eccles Road, with multiple entry and exit points, Minister Indar noted the project is also intended to reduce traffic congestion surrounding Sheriff Street.
An added benefit, according to Indar, is that the communities surrounding the project will be aesthetically and economically boosted with the expected rise in property values to brought on by the development.
The President also visited work being done by Leopold Street residents in block-making training, where the Ministry of Housing and Water's Central Housing and Planning Authority (CH&PA) is providing technical support for the Leopold Street workers.
While there, the Head of State said the residents can be an example for other youths desirous of being part of the development of Guyana. He also expressed pride in their work and urged them to continue. Additionally, Minister Indar commended the workers for their dedication on the project. (G3)