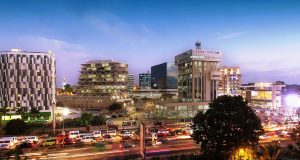 After meetings between visiting Ghanaian President Nana Addo Dankwa Akufo-Addo and President David Granger, a number of decisions have been made to increase bilateral cooperation including visa-free travel between the two countries.
The decision to end visa requirements to travel between Guyana and Ghana was solidified by agreements. Signing those agreements on Tuesday were Guyana's Foreign Affairs Minister Dr Karen Cummings and her Ghanaian counterpart, Shirley Botchway.
Afterwards, on the sidelines of a luncheon at State House for the Ghanaian and Guyanese officials, Director General of the Ministry of the Presidency, Joseph Harmon explained what the visa-free travel agreement entails.
"This morning we signed agreements on the abolition of the visa requirement for citizens of Guyana and citizens of Ghana. What this means is that persons who are the holders of diplomatic, official and regular Guyanese passports can travel to Ghana and likewise, Ghana can come to Guyana, without the requirements of a visa."
"In the initial stages, they will be entitled to 90 days without having to renew, but after 90 days they will be required to renew based on the laws of the respective countries," Harmon said. "Additionally, we had agreements on trade and industry. The important thing is we're looking to expand our relationship in business."
Harmon further explained that Ghana has an interest in Guyana's rum and forestry sectors. In the case of Guyana's wood, Harmon explained that the Ghanaians are interested in using some of the better-known species of wood in Guyana to mitigate deforestation in Ghana.
There are also discussions for technical cooperation between the two countries in the oil and gas sector. For instance, Harmon revealed that a commitment was made for Ghana to send its oil and gas experts at its own expense. All Guyana would have to do, according to Harmon, is to find the accommodation for these experts.
"The President of Ghana made a very clear offer that they are prepared to assist Guyana with technical cooperation and the personnel to assist us in the development of the oil and gas sector. So this is very important for us because they committed to pay the salaries and transportation to get the people here and all we have to do is find accommodation. So it's a clear commitment on their part."
The Ghanaian President and his entourage are on a two-day visit to Guyana, during which they have already met with important functionaries and visited local breweries. Previously, a delegation of Ghanaian investors had visited Guyana to explore opportunities.
The National Industrial and Commercial Investment Limited (NICIL) Special Purpose Unit had announced recently that Ghanaians are also part of a consortium of investors looking to purchase the Rose Hall estate, one of three estates being divested.
Late last year, discussions were underway in Guyana about developing an air bridge between Ghana and Guyana. In fact, the two governments had signed an Air Services Agreement, marking a commitment for direct flights between the countries.
Then Minister within the Public Infrastructure Ministry, with responsibility for the aviation sector, Annette Ferguson and Minister of Aviation of Ghana, Joseph Kofi Adda, signed the agreements on behalf of their respective governments at the International Civil Aviation Organisation (ICAO) Air Transport Meeting in November.
The agreement was signed after the hosting of the third African Diaspora Meeting, where a recent assessment found that it usually takes more than 38 hours from a Caribbean country to Africa. It was this that initiated discussions.