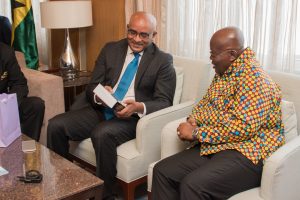 The Republic of Ghana has committed to lending assistance to Guyana as the country prepares for first oil early next year – an offer which the Coalition government and the Opposition both welcomes.
This commitment was made by President Nana Akufo-Addo, who is on a two-day visit, first, during a meeting with President David Granger and then again at a luncheon at State House on Tuesday.
"We've heard the good news too of the recent discoveries of large deposits of oil and gas offshore Guyana. We should explore promptly the possibility of establishing a joint vehicle to assist in the effect and efficient management of oil and gas revenues. With our experiences, I believe Ghana is well equipped to share with you the dos and don'ts in the area, and make available fee-free quality technical assistance to you. Hopefully, the proper management of the new revenue will help finance the spectacular development of Guyana," President Akufo-Addo stated after speaking about Ghana's own discoveries.
This commitment was reiterated during a subsequent meeting with Opposition Leader Bharrat Jagdeo on Tuesday afternoon.
Following the brief engagement, Jagdeo told reporters that he welcomes this announcement, noting the importance of getting first-hand advice.
"I said to the (Ghanaian) President, we appreciate his offer to share their experience and some of their technical advice on issues that they've had to deal with because it's important that we have perspective from a practitioner country, developing country and not just from consultants," he posited
The Opposition Leader added that after enquiring about the impending elections, the Ghanaian Head of State assured that his commitments are beyond political parties.
"(He) said that the offer is to Guyana and not to any political party. We expressed our appreciation for that because even if the PPP were to get into office, we would still need to get support from like-minded countries and Ghana has always been a good political partner," Jagdeo said.
Earlier in the day, Director General of the Ministry of the Presidency, Joseph Harmon, had told reporters that this offer of assistance to develop the local oil and gas industry augurs well for Guyana.
"What they did was to commit to pay the salaries, the transportation and everything to get the people here and all we will need to do is to find accomodation for them… We're talking about capabilty building, we're talking about the capacity of the Department of Energy. Ultiamtely, the President (Granger) has spoken about the establishment of a Minsitry of Energy and so this is really going to require an expanded of talent, of persons and their skills and so on. So these are things that we're looking at right now," the government's spoke's person posited.
Currently, the budding oil and gas industry is being governed by the Department of Energy within the Ministry of the Presidency.
Only last month, a large high-level Ghanaian delegation was in Guyana to engage local stakeholders on areas of mutual interest in the oil and gas sector, among others. The more than 15-member team, led by Ghana's Energy Minister and Deputy Minister of Petroleum Dr. Mohammed Amin Adam, had met with Director of Energy Dr. Mark Bynoe and his team.
However, while Ghana is ready to help Guyana, the West African State's own petroleum industry, still young, has not had the best record with the country failing to use its oil boon to avert the economic crisis and deprivations its people are currently facing.
Ghana has been producing and exporting crude oil since 2011 having discovered the resource in commercial quantities back in 2007. However, the country's financial standing has taken a hit in recent years as prices for its main export products, including oil, have fallen.
Nevertheless, the International Monetary Fund (IMF) has predicted that Ghana's economy will grow at 8.8 percent in 2019, pegging the country to be the fastest-growing economy in the world this year.
Having made 13 discoveries of commercial oil in the Stabroek Block offshore Guyana, ExxonMobil is preparing to commence production in the first quarter of 2020. The US oil giant has announced an estimated recoverable resource of approximately 5.5 billion oil-equivalent barrels on the Stabroek Block.