A man who was arrested and charged for the rape of a 14-year-old female from Region 10 (Upper Demerara-Berbice) will no longer be facing the brunt of the law after the office of the Director of Public Prosecutions (DPP) allegedly advised law enforcement officials to take no further action in the matter.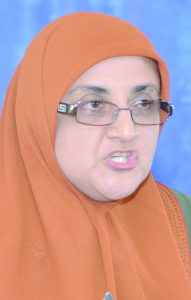 A senior police source told Guyana Times on Thursday that the teenager along with her mother visited the DPP Chambers sometime last week and indicated that they no longer wished to proceed with the matter.
According to the source, based on whatever discussion the mother and the 14-year-old had with the DPP, ranks in E Division (Linden-Kwakwani) were notified that the legal advice obtained from the State Counsel was not to proceed with the matter.
It was reported that two weeks ago, as officers in that Division were preparing a wanted bulletin to be released to the media with names of suspects for rape cases, the alleged rapist's name had been on that list.
Hours before the list was forwarded to the police, someone notified the suspect and he immediately visited one of the police stations in Region 10.
As such, he was arrested and charged for the offence of rape. However, on August 9, 2019, the correspondence from the DPP was sent to the police about the visit from the complainant and her mother and the advice to halt any further action.
A police source explained that in addition to the man being accused of raping the 14-year-old, there were three other men who were also alleged to have raped her.
When contacted on Thursday to confirm the details of the case, Commander of E Division (Linden-Kwakwani), Senior Superintendent Linden Lord stated that the police officers in his Division executed their investigations into the matter and completed the necessary steps that had to be taken when handling a child rape case.
However, although the Commander did not divulge the details about the matter, he reminded that whenever the police send files to the DPP for legal advice, the police have to use that advice for guidance and follow through.