The American Chamber of Commerce of Guyana (AmCham Guyana) on Friday inked a Memorandum of Understanding (MoU) with the Guyana Tourism Authority (GTA), combining their efforts to increase the preservation, protection and promotion of sustainable tourism.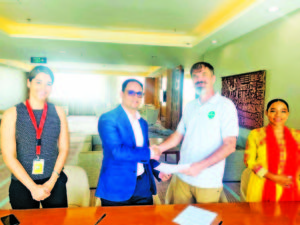 This partnership was initiated to maximise socio-economic and conservation benefits for citizens, while fostering investment opportunities for American businesses and collaboration with Guyanese-owned and operated tourism entities.
At the signing ceremony, President of AmCham Guyana, Zulfikar Ally noted that the purpose of the MoU is to help AmCham Guyana and GTA to improve the enabling environment for tourism enterprise development.
"AmCham welcomes this partnership. Not only are we welcoming the Guyana Tourism Authority, but also the potential to work with the entire tourism industry and its supporting sectors," said Zulfikar. "This MoU is just the first step in helping to expand our network to maximise our positive impact as a community to our members and Guyana as a whole."
Adding to that, Director of the GTA, Brian Mullis remarked, "We are extremely excited to be signing the MoU with AmCham Guyana. At the GTA, we know that multi-stakeholder partnerships play a key role in continuing to develop sustainable tourism in Guyana."
This document will further assist in the creation of other frameworks to protect aspects of Guyana's tourism features.
Mullis said that AmCham Guyana and GTA will work together to identify and prioritise policy recommendations and secure input and support from key stakeholders. "The CSR commitments made by these companies collectively have the potential to generate a substantive and positive impact on Guyana and also align with our goals for tourism in the country," Mullis added.
For AmCham Guyana, tourism opportunities will be promoted to its audience through the use of marketing collateral and messaging provided by the GTA, while both parties will seek to identify opportunities for the GTA to secure support for sustainable development projects.
AmCham Guyana is a voluntary, non-profit, membership organisation committed to promoting and enhancing commercial relations between the United States and Guyana. The GTA is a semi-autonomous governmental organisation responsible for developing and promoting sustainable tourism in Guyana through collaboration with sister agencies and the tourism Private Sector.
Last March Guyana was named number one "Best of Ecotourism" destination in the world. The award was presented to Guyana at the ITB global travel trade fair in Berlin, Germany.