Digicel's Schools Football Championships
By Akeem Greene
Annai Secondary sent a stern warning to opposing teams by comprehensively defeating Bush Lot Secondary 5-2 in the Regional play-offs of the Digicel's School Football Championship on Sunday at the Ministry of Education Ground, Carifesta Avenue.
The Region Nine unit quite surprisingly had the larger of the crowd support as cousins Naidison and Orville Daniels helped themselves to a brace each in the dominant performance.
Naidison first opened his account in the 11 minute collecting a cross from the right then heading the ball over a rushing goal keeper. Nine minutes later Ntini August executed a splendid right foot volley to level the score and bring some amount of anxiety to their opponents.
The pendulum kept swinging both ways but no side seemed to be crumbling under the pressure until Naidison swivelled his way through the backline then neatly slotted into the low right.
Orville's menacing runs down the left flank find brought virtue as he out-foxed two defenders, squaring the ball on goal only to see it deflected into goal by Bush Lot defender Terry Gordon in the 38th minute.
A rattled Berbice unit quickly reigned their composure as Tryone Milles slinked a his shot from the left in the 40 minute, ending half time with the score 3-2.
The first clear-cut attempt on goal was a simply a master class, as Annai's Sherral Daniels skipped his way through the mid-field then made a needle-eye pass to Orville on the edge of the box, who then had the easiest of jobs in shooting it pass an unmoved keeper in the 60th.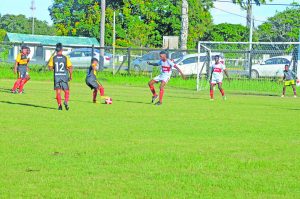 The woes for Bush Lot continued as Orville then unleashed a powerful shot in the 72nd, stunning the custodian and ending Bush Lot's chances of progressing.
Annai will now clash with Vryman's Erven Secondary in the quarter-finals on Tuesday at Burnham Park, New Amsterdam, Berbice from 15:30 hrs.
The semi-finals and final are slated for Thursday and Sunday respectively at the National Track and Field Facility, Leonora.
The schools are vying for the top prize of one million dollars towards a school project of their choice, while second place finisher will play for $700,000, third $400,000 and fourth $350,000 which will go towards a school project of their choice. The top regional have been awarded $100,000 each.
The defending champions are Chase Academic Foundation with other winners being Christianburg/Wismar Secondary (2012-2015) and Government Technical Institute (2011).