Luis Ramirez Merlano and Shondell Hyles emerged champions when the Darts Singles' tournament was staged last Friday evening at the Malteenoes Sports Club Pavilion at Thomas Lands, Georgetown.
Merlano came out undefeated in the Men's Singles category of the tourney, sponsored by Amy's Taxi Services.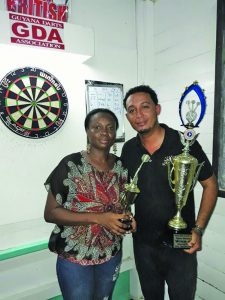 He defeated Hunter 2/0 in the semi-final playoff, and went on to play Colin France, who had defeated Marvin Yaw in the other semi-final playoff.
Luis crushed Colin France, who was no match for him, 3/0 in the finals.
In the Female Singles, sponsored by Sheik Yaseen, Shondell Hyles won against Melisa Smartt 2/1 in the finals.
Earlier, in the 'Luck of the Draw' doubles, Marvin Yaw and Melisa Smartt got the better of Mary Correia and Dr. Terence Joseph in the semi-final playoffs, while Adrian Damon and Shondell Hyles won against Ramirez and Bryan James.
Team Yaw and Smartt defeated Damon and Hyles in the finals, while Ramirez and James emerged third place winners.