Police are probing an attempt to burn down one of Guyana's famed landmarks, the Umana Yana in the wee hours of Sunday.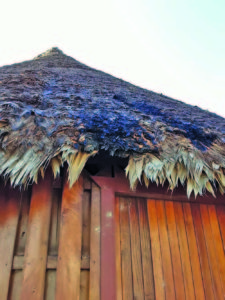 Quick action by a female constable who was on guard duty prevented the fire that was already set from escalating.
According to reports, around 02:00h, while the Constable was on duty, she observed a man scaling the north- eastern fence of the compound with a black tyre and a bottle in his hands.
The law enforcement officer told investigators that she observed the perpetrator running to the western side of the building, where he set the lower branches of the thatched roof on fire.
The suspect, upon seeing the Constable, jumped the eastern fence and proceeded east to Battery Road on foot, making good his escape.
The Constable quickly raised an alarm, and Police ranks on patrol were alerted. They managed to quench the flames with a fire extinguisher before the Guyana Fire Service (GFS) arrived.
Police said that they were investigating the attempted arson, and were seeking Closed Circuit Television (CCTV) footage to identify the suspect.
They are also looking for a red GWW series pick-up truck that was reportedly parked north on High Street, Kingston with three occupants.
The vehicle was seen parked in front of the Umana Yana before heading south on High Street after the fire started. On September 10, 2014, the Umana Yana was destroyed by fire, but was rebuilt two years later.